People, Parks and Cultures of Honduras
with a Bonus of Spectacular Birds
"Missouri Conservation Heritage Foundation has asked Beaks and Peaks to develop several tours in Honduras to help us with our conservation efforts for Missouri birds. Many of Missouri's birds migrate south to the beautiful habitats of Honduras and other Central American countries. Over the past couple decades, Missouri ornithologists in partnership with biologists from other states and countries have worked diligently to prevent the loss of bird habitat and migratory pathways both in the United States of America and in Central America. Our partnership with Beaks and Peaks is part of our efforts to continue funding and raising awareness of the importance of this work. Each time you purchase one of these Conservation trips, you are contributing toward the ongoing protection of bird habitat. I am excited about the adventure ahead of us!" – Cynthia Hawcroft, Research/Foundation Associate, Missouri Conservation Heritage Foundation
This trip to western Honduras combines fabulous birding, coffee culture, spectacular landscapes, and Maya, Lenca and Spanish colonial history. You will be talking to local people about their traditions, their beliefs, and their day-to-day life. You will have the chance to experience firsthand how coffee—one of Honduras' most important crops and number one export product—is produced, and taste some of the best varieties. You will enjoy the stunning landscapes of Honduras' most impressive mountain ranges— Celaque, Santa Bárbara and Cerro Azul Meámbar—and breathtaking Lake Yojoa. You will learn about conservation and the challenges facing protection of parks and wildlife in this country. And if you want, you will see plenty of colorful birds such as Keel-billed Motmot, Prevost's Ground-Sparrow, Resplendent Quetzal, Blue-crowned Motmot, Masked Tityra, Crimson-collared Tanager, Bushy-crested Jay, Honduran Emerald, and many more.
Our "People, parks, and cultures" tour is a must for all who wish to truly immerse in Honduras and get a deeper understanding of and appreciation for the country, its people and traditions, and its extraordinary natural beauty.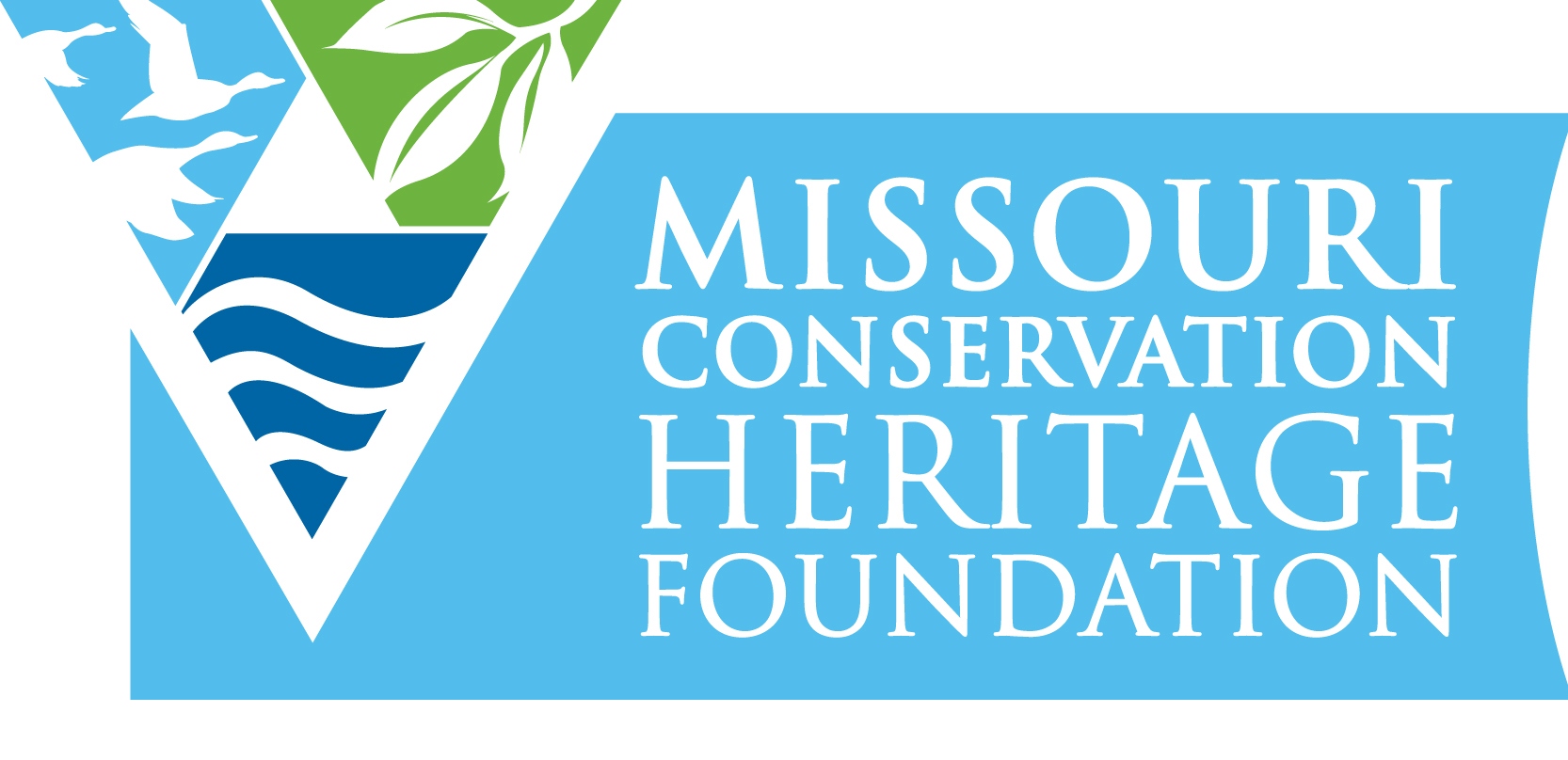 DEPARTURES
June 2-9, 2017 (option*)
November 4-11, 1017 (option*)
*min. 4 participants are needed to guarantee departure (and max. 8)
BRIEF SUMMARY
Day 1
Arrival in San Pedro Sula and transfer to Copán
Day 2
Exploring the Mayan city of Copán Ruínas
Day 3
Transfer to Gracias and birding along Río Grande
Day 4
Lenca culture in La Campa
Day 5
Transfer to Finca Santa Elena for the perfect combination of coffee culture and nature
Day 6
Transfer to Cerro Azul Meámbar National Park (PANACAM)
Day 7
Visit to La Fuente de Vida ecotourism project in the Santa Bárbara Mountains
Day 8
Transfer to San Pedro Sula airport

Day-by-day itinerary
Day 1 | Arrival in San Pedro Sula and transfer to Copán
After we pick you up from the airport in San Pedro Sula, we drive straight to the charming town of Copán Ruínas in West Honduras. After settling into our gorgeous hotel Casa de Café on the edge of Copán's historical center, we may have time in the evening to explore the lively town square, visit te many arts and crafts shops, and enjoy the cobblestone streets. Over dinner in one of the many excellent restaurants, we will become acquainted with each other and the tour leaders.
Day 2 | Exploring the Mayan city of Copán Ruinas
AThe UNESCO World Heritage site of Copán Ruínas offers a grand combination of Mayan history and a beautiful natural setting including easily viewed Scarlet Macaws. Although not the largest Mayan city, Copán was the principal Mayan cultural center during the 400 years when the city was at the peak of its development. It was far ahead of other larger Mayan cities in its development of sculpture, astronomy, and hieroglyphic writing. We will have a guided tour through the ruins by a knowledgeable local specialist.
The Mayan city of Copán as it exists today is composed of a main complex of ruins with several secondary complexes encircling it. The main complex consists of the Acropolis and important plazas. Among the five plazas are the Ceremonial Plaza, with an impressive stadium opening onto a mound with numerous richly sculptured monoliths and altars; the Hieroglyphic Stairway Plaza, with a monumental stairway at its eastern end that is one of the outstanding structures of Mayan culture. On the risers of this 100m wide stairway are more than 1,800 individual glyphs which constitute the longest known Mayan inscription. The Eastern Plaza rises a considerable height above the valley floor. On its western side is a stairway sculptured with figures of jaguars originally inlaid with black obsidian.
From what is known today, the sculpture of Copán appears to have attained a high degree of perfection. The Acropolis, a magnificent architectural complex, appears today as a large mass of rubble which came about through successive additions of pyramids, terraces and temples.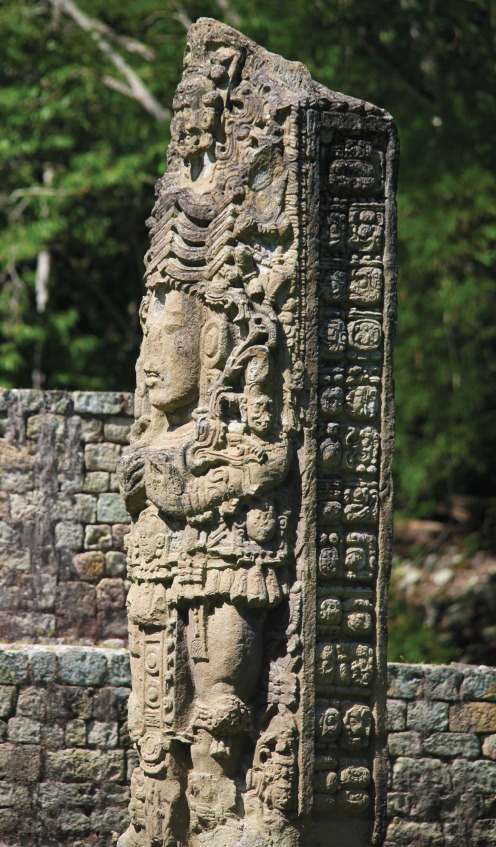 Stela in Copán's main Mayan archaeological site
The world's largest archaeological cut runs through the Acropolis. In the walls of the cut, it is possible to distinguish floor levels of previous plazas and covered water outlets. The construction of the Great Plaza and the Acropolis reflects a prodigious amount of effort because of the size of its levelled and originally paved expanse of three hectares and the latter because of the enormous volume of its elevated mass, which rises some 30 meters from the ground (http://whc.unesco.org/).
Copán lies in a fertile valley traversed by the Copán river, boarded by hills covered in dry pine and mixed forests. After a delicious lunch in Hacienda San Lucas, we are ready for our afternoon nature walk. We may see White-fronted Parrots, Green Kingfishers, Rufous-naped Wrens, Lesser Ground-Cuckoos, the lovely White-throated Magpie-Jays, Elegant Trogons and more.
After a full day of archaeology and nature, we will enjoy excellent Honduran cuisine in of of Copán's many cozy restaurants!
Day 3 | Transfer to Gracias and birding along Río Grande
Gracias was once the first capital of Honduras — for a brief time in the 16th century it even was the capital of all Spanish-conquered Central America — and is still a very pleasant town. Gracias lies in the shadow of Honduras' highest peak: Cerro de las Minas in Celaque National Park. The area combines virgin cloud forest, dry pine/oak and broadleaf woodland, with a surrounding mosaic of farmland, coffee plantations and patches of woodland, making this region a nature paradise that is also rich in culture.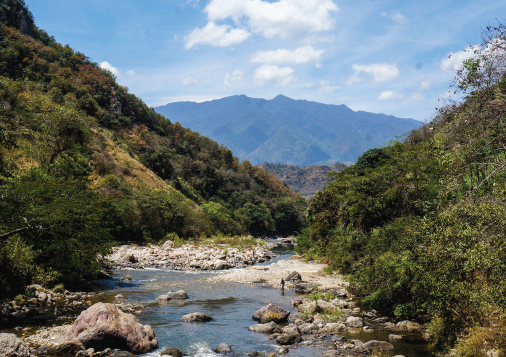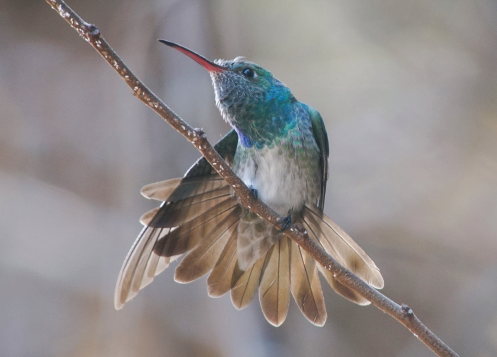 After settling in our hotel Casa Celaque and yet another succulent lunch, you have the option of going to Río Grande, a beautiful river just outside of town and a favorite local swimming hole. Here we may see the only bird that occurs in no other country in the world, a hummingbird called the Honduran Emerald. A small population of this gorgeous hummer was discovered here in April 2013. Before, it was only known from hard-to-access Olancho! The region is also home to many other drier-country birds, amongst others the Elegant Trogon, Striped Cuckoo, Turquoise-browed Motmot, Bushy-crested Jay and many more. Along the Río Grande, we will also see some water birds such as Green Herons, Black Phoebes, different kingfisher species etc. After that, we enjoy a short city stroll before we enjoy another succulent dinner in the historical center of Gracias.
Or if you would rather hang out and enjoy the piece and quiet of the hotel's natural surroundings, or relax in Gracias' local hotsprings, that is an option too!
Day 4 | Lenca culture in La Campa
Pottery artists Doña Desideria and her son
Just twenty kilometers south of Gracias in the department of Lempira, lies one of the most beautiful and ancient cities of Honduras – La Campa. To see this small town with its charming and extraordinarily well preserved colonial buildings amidst canyons and pine forests is near magical.
Most of the inhabitants of La Campa are Lenca descendants, and despite the era of Spanish colonial rule, many still preserve their traditional way of life and their cultural identity. La Campa is well known for its distinctive Lenca pottery. Much of the ceramic production comes from the surrounding mountain villages, where people are experts in the manufacture of pottery in the traditional Lenca style.
We visit the simple but beautiful church of La Campa – on of the oldest in the area – and the museum. Afterwards, we go to the workshop of Doña Desideria, a true Lenca woman and a master in the art of traditional pottery! She will give us a brief demonstration of her skills, and you will have the opportunity to purchase some of the finest Lenca pottery, straight from her hands.
When we return from La Campa, there will still be time to explore the lower elevation trails of Celaque National Park.
We will be keeping our eyes open for the Mesoamerican endemic Bushy-Crested Jay, the Laughing Falcon, Turquoise-browed Motmot, some resident warblers such as the Common Yellowthroat and Rufous-capped Warbler, and other birds like the Altamira Oriole, Black- headed Saltator, Mountain Trogon, Flame-colored Tanager and Yellow-backed Oriole. There may also be a chance to exchange with the park management and/or local guides about the importance, and the challenges and opportunities of the park.
Day 5 | Transfer to Finca Santa Elena for the perfect combination of coffe culture and nature
Hidden in the beautiful pine forests of southern Lempira near the village of San Juan Intibucá lies Finca Santa Elena – a modern coffee plantation that is environmentally and bird friendly. Finca Santa Elena produces high quality coffee using innovative and sustainable methods.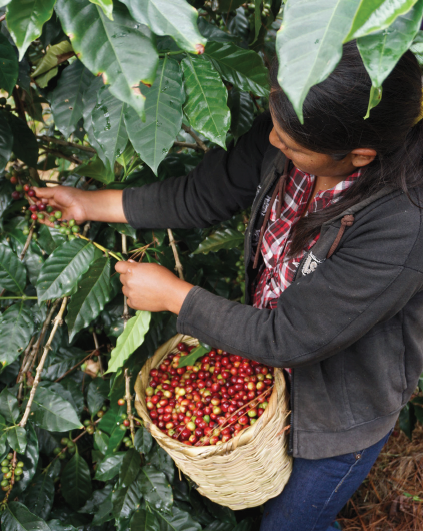 All coffee is hand-picked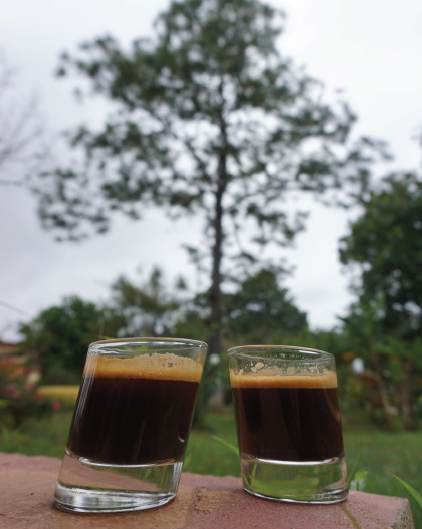 Delicious coffee grown under pine trees
It is the only coffee finca (a small ranch of plantation) to grow coffee under pine trees, and one of the first in Honduras that uses drip irrigation. The finca produces several different varieties of coffee – some of which you will get a chance to taste and compare later! Part of the property has also been 'left to nature' and has become a haven for wildlife. And if you are here in October or early November, it is also a great location for hawk watching during migration!
Employees of the finca will introduce us to the entire coffee production process — from tree to cup. We finish the tour with a tasting of espressos and cappuccinos based on the different varieties of coffee grown in the finca, along with a slice of homemade bread. Which coffee will be your favorite? You can even pick and roast your very own coffee, which will then be packed for you to take home. Or get one — or more — bags of their finest, all ready to go.
Day 6 | Transfer to Cerro Azul Meámbar National Park (PANACAM)
We leave early for the Lake Yojoa area, making a short stop near la Esperanza to visit private reserve and hummingbird garden El Consejero, a small ecotourism project that we support to give this warm local family some extra income and encourage them to keep protecting their amazing property. The feeders and flowers of the garden attract many highland hummingbirds. An amazing sight to enjoy while having a cup of coffee prepared by the owners' daughter Arcadia.
We then continue our way to the lake area, which is home to the biggest variety of bird species in Honduras. We have lunch at a restaurant on the lake which offers a splendid view over the lake and the surrounding wetlands and marshes. And the food will be fresh and delicious. Over here we have the opportunity to spot some additional new birds and to see local people using the lake.
After lunch we drive up to our hotel PANACAM Lodge withing this mountainous national park. Once we are settled, you will have the option of enjoying your comfortable lodging and the well-tended grounds and trails, or looking for some of this park's birds with your guides. We might see toucans, motmots, and several hummingbirds. If you are not too tired, we can also do a nightwalk and look for owls, frogs, snakes, and other creatures of the dark.

Day 7 | Visit to La Fuente de Vida ecotourism project in the Santa Bárbara Mountains
The volcanic and limestone landscapes surrounding the lake support a rich diversity of habitat types and a corresponding diversity of plants and animals. Nestled into the Santa Bárbara mountains are small friendly communities that make their living from growing coffee and from subsistence agriculture.
On first appearances this seems like an idyllic landscape but unfortunately, as is the case throughout much of the world, there is pressure to clear more forest to make way for agriculture in order to support a growing population.What is different about this region however is that these three communities have come together to form a project we named ¨Montaña de Santa Bárbara – La Fuente de Vida¨. Thousands of people depend on Montaña de Santa Bárbara for food, water and shelter and income. It is truly the source of life – la fuente de vida – for all of these people. Because of its incredible biological diversity it is also the source of life for the innumerable plants and animals that call the mountain home.
The three communities are working together to develop new sources of income based on ethical and sustainable tourism in the hope that these additional resources will enable them to improve our livelihood while protecting this critical environment and maintaining their cultural values.
By visiting this program you will be part of an inspiring conservation effort in a spectacular landscape, and to learn about the friendly people of the local villages, and to gain a better appreciation of why this is an important area to protect.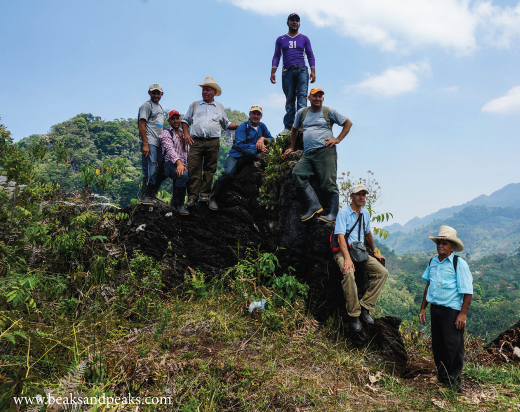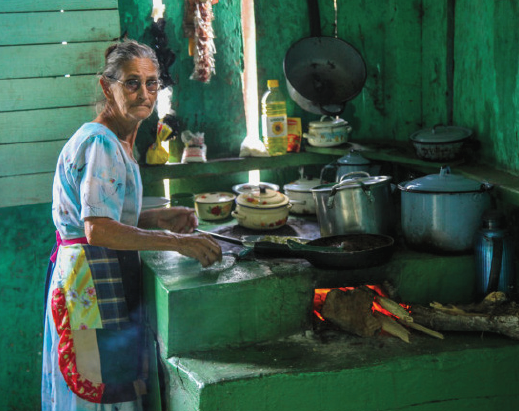 Doña Nicha in her kitchen
Breakfast and lunch will be prepared by a local family, and one of the local guides will show us around some of the trails the communities have built to show visitors the natural wonders of their home. You can also talk with the local people, see how they live, join in some of their daily tasks, and experience what life is like up here in the mountains. You will be invited to visit their homes and gardens, see how they produce honey and grow vegetables, learn about the place coffee growing takes in their lives, hear about the Fuente de Vida project and the importance of the mountain, and if you want the women can even teach you how to prepare some of the local meals!
We plan to arrive back at our hotel before dark and in time for our farewell dinner.
Day 8 | Transfer to San Pedro Sula Airport
We bring you to San Pedro Sula airport in time for your flight back home.