Honduras, full of adventure
Thanks to its numerous unspoilt natural areas, Honduras is a paradise for anyone who loves outdoor adventure. This "Adventure and Conservation tour" takes you through several of Honduras' many different ecosystems on a variety of outdoor activities: whitewater rafting on the impressive Rio Cangrejal, kayaking on tranquil Lake Yojoa, hiking in the Santa Bárbara mountains or Pico Bonito rainforests, snorkeling in the crystal-clear Caribbean sea, or meeting the local people in the mountain villages… this tour has it all. So if you want to truly be in touch with nature, feel the adrenaline flowing through your body, experience the diversity of the tropics, and support conservation and sustainable development while you are at it, this is exactly the trip for you!
Honduras also has plenty to offer in terms of culture. Copán, for example, was the cultural heart of the Mayan empire! However, Honduras isn't (or wasn't) just Mayan. It is a melting pot of cultures, even today. In the west and the highlands, you will find the Lenca. In Copán, towards Guatemala, the Chortí. On the north coast and on the Caribbean islands you will find the Garífuna, on the Mosquito Coast the fishing people of the Pech, and deeper in the jungle live the Mískito and the Tawakha. And that's just the tip of the iceberg.
The average Honduran may not be into haute cuisine, but that doesn't mean you can't find good food. You should try the typical baleadas and pupusas, and when you're at the coast the seafood soup with coconut is an absolute must-try. And if you're into trying the local liquor, put Guífiti and Chicha on your list!
Please note that even though no particular skills or experience are required for this trip, we ask that — given the combination of high-pace travel, a warm and humid climate, and numerous rather strenuous activities — all participants are in good physical condition, able to walk for several hours, and reasonably good swimmers. If you have any doubts, please talk to us beforehand.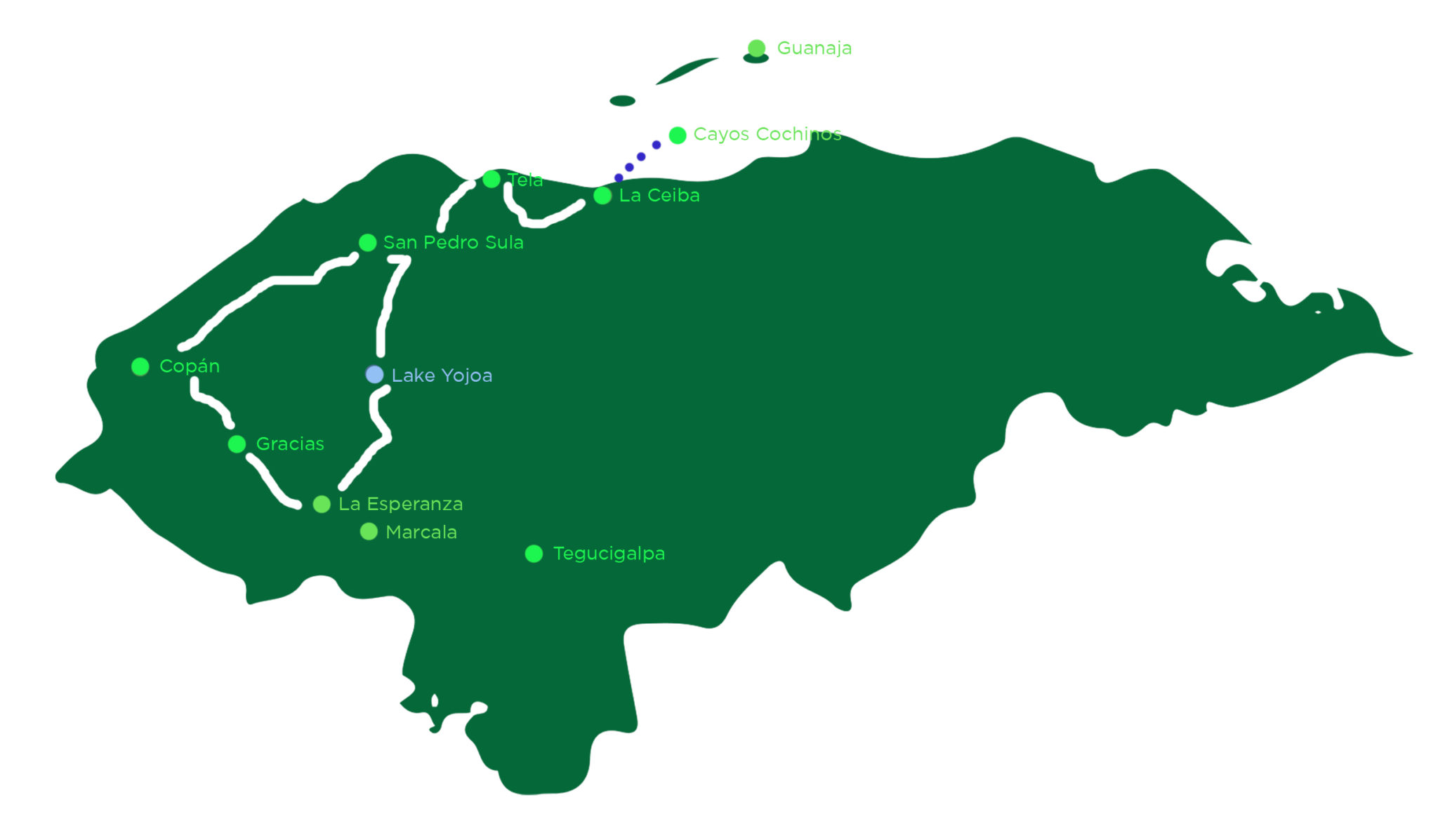 BRIEF SUMMARY
Day 1
Arrival at San Pedro Sula airport and transfer to Copán
Day 2
Visit to the Maya archaeological site. Relaxing in hotsprings
Day 3
Transfer to Gracias. Hiking, birding and swimming at Río Grande
Day 4
Hiking in National Park Celaque. City stroll in Gracias
Day 5
Transfer to Finca Santa Elena. Coffee tour and cupping workshop
Day 6
Transfer to Lake Yojoa. Kayaking on the lake
Day 7
Hiking in Santa Bárbara (Fuente de Vida ecotourism project)
Day 8
Transfer to the north coast. Hiking/birdwatching in Río Santiago
Day 9
Boat trip in mangroves of Cuero y Salado. Optional hiking or swimming at Río Zacate
Day 10
Hiking in National Park Pico Bonito
Day 11
Rafting on the Río Cangrejal. Flight to Guanaja
Day 12
Hiking along the waterfalls
Day 13
Snorkeling and relaxing. Transfer to Río Santiago
Day 14
Transfer to San Pedro Sula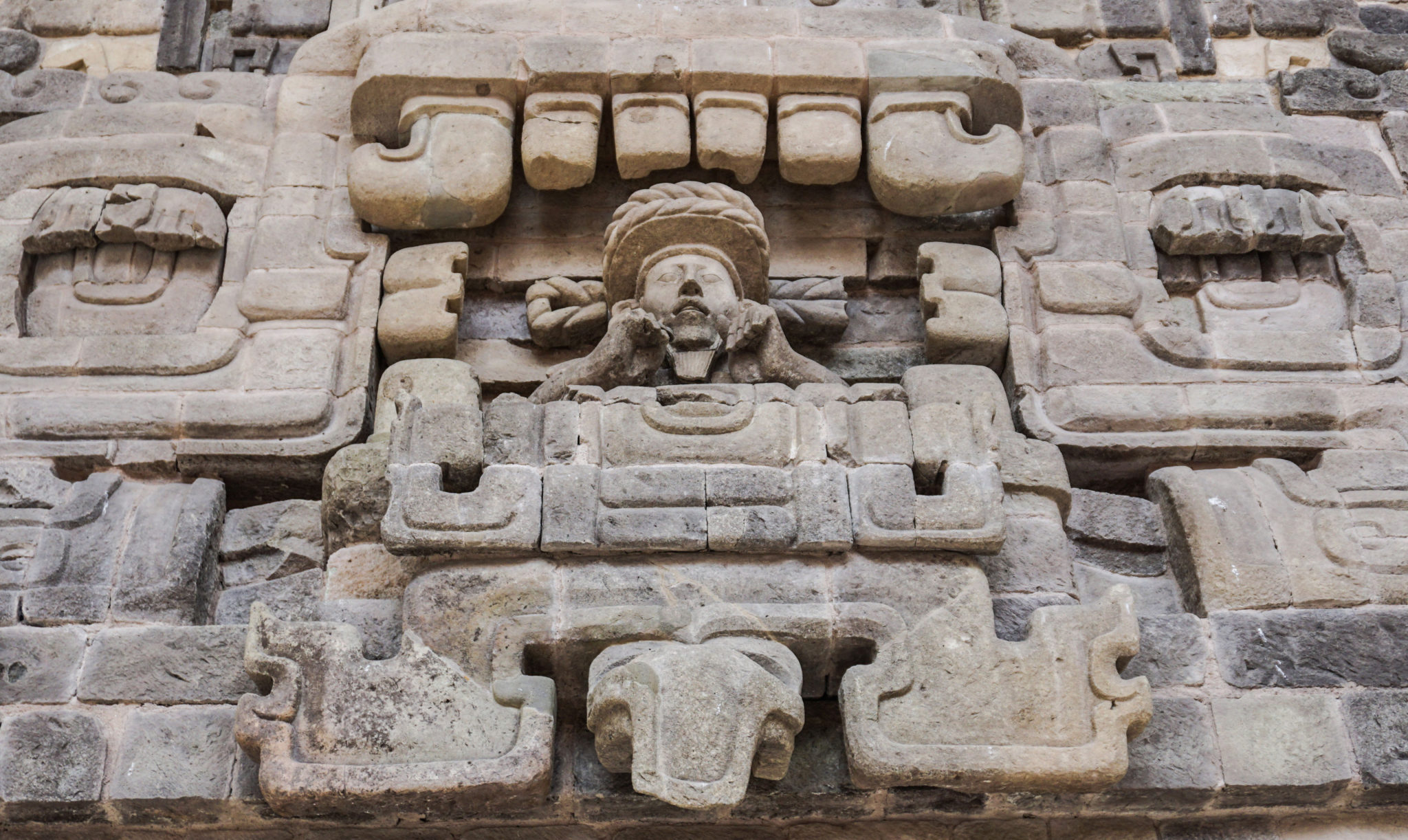 Sculpture of one of Copán's Maya rulers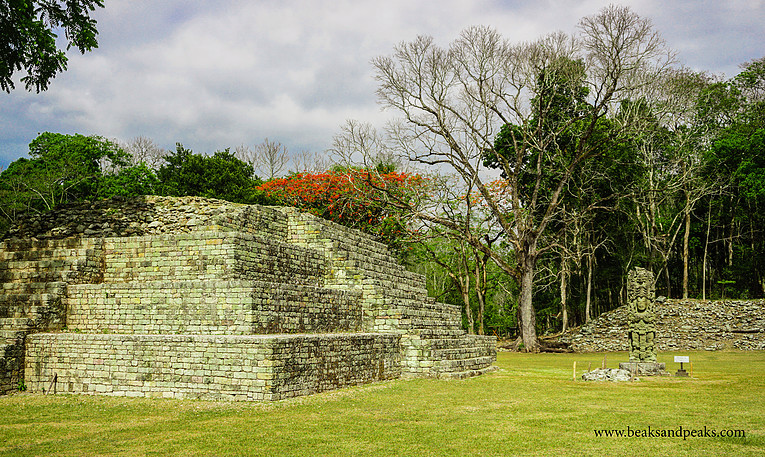 Main plaza of Maya archaeological site in Copán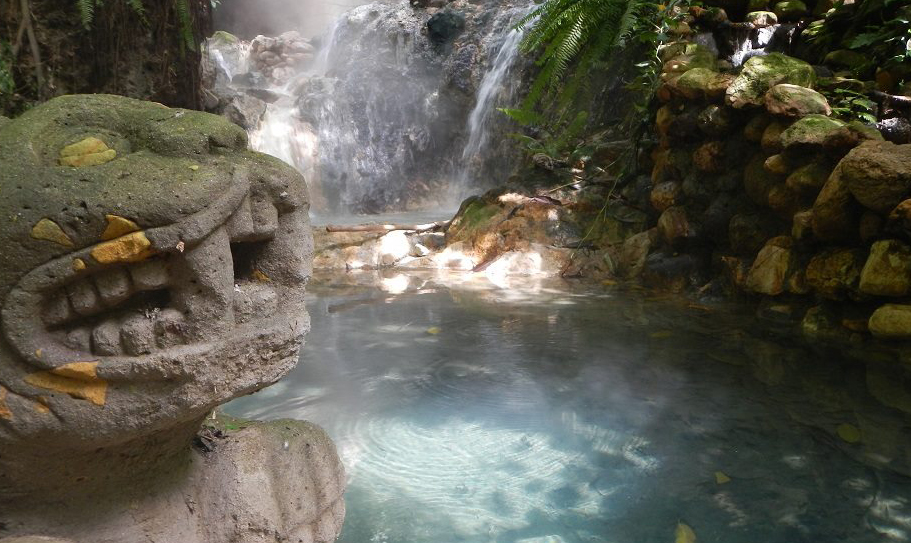 Hotsprings near Copán (Photo: Luna Jaguar Spa)
Day-by-day itinerary
Day 1 | Arrival at San Pedro Sula airport and transfer to Copán
You will be picked up from the airport of San Pedro Sula. We jump straight into the car, because we have a four-hour ride ahead of us before reaching our first destination. Copán Ruínas is of course mostly known for its Maya site, but the town itself is well worth the trip too. The Spanish-colonial atmosphere, the many restaurants and bars, the lively town square all conspire to make this an excellent place to start your holiday.
Day 2 | Visit to the archaeological site. Relaxing in the hot springs of Luna Jaguar

After a delicious breakfast, we make our way to the archaeological site of Copán, where we will explore the history and culture of the Mayans. At the peak of the Mayan empire, Copán was the regions cultural heartland. You will discover this during your visit to the site. It may not be the biggest Mayan site, its pyramids may not be the highest, but the sculptures and hieroglyphs are evidence of the city's high level of sophistication. Not only are the sculptures and hieroglyphs in Copán beautiful, they are also a treasure trove of information for archaeologists and historians.
After lunch, we will drive through the valley of Copán and the surrounding hills to the hot springs of Luna Jaguar. The combination of narrow trails through the forest, gurgling hot water, steam, and Mayan art infuses this place with a magical atmosphere. You will enter the hot springs through the Inframundo (literally, the Underworld), but soon you will discover the sense of Mayan philosophy: through contact with nature and the purifying effect of the mineral-rich water, you will reach heaven, your highest energy levels, direct communion with the stars. In a way, you will feel reborn.
Day 3 | Transfer to Gracias. Hiking, birding and swimming along the Río Grande.
After breakfast, we will drive to Gracias, Lempira, a Spanish-colonial town which was once the first capital of Honduras. Besides Spanish influences you will also notice the pride the locals take in their Lenca heritage. Gracias was the last stronghold of Cacique Lempira, Honduras' national hero, in his fight against Spanish rule.
After a tasty lunch, we will go to the Río Grande. A few years ago, a new colony of the "Honduran Emerald" (Amazilia luciae or Honduran Amazilia) was discovered there, the only endemic Honduran bird species. And they are very proud of them indeed! Let's try our luck at spotting this magnificent hummer! When we are tired of birdwatching – or for those not into birdwatching – the river also offers excellent opportunities for a refreshing splash!
Day 4 | Hiking in National Park Celaque. City stroll in Gracias, Lempira
We will get up before the crack of dawn for a vigorous hike (don't forget to bring your binoculars) in National Park Celaque, the pride and joy of Gracias and Honduras' tallest mountain. We won't reach the summit today (some fanatics make it in a day, but we wouldn't recommend a 16-hour hike with a 2000-meter climb), but the lower-level, shorter trails offer plenty of exercise, nature and birds!
After lunch, we visit the historical center of Gracias, Lempira, a charming town characterized by both native Lenca and Spanish colonial influences. We visit some of Gracias' most important landmarks: its many churches – of which La Merced is one of the oldest and prettiest in Central America – the Galeano museum, botanical garden, main square, and some of the local restaurants, bars and shops. This afternoon, you will get an insight in Graciana culture and history.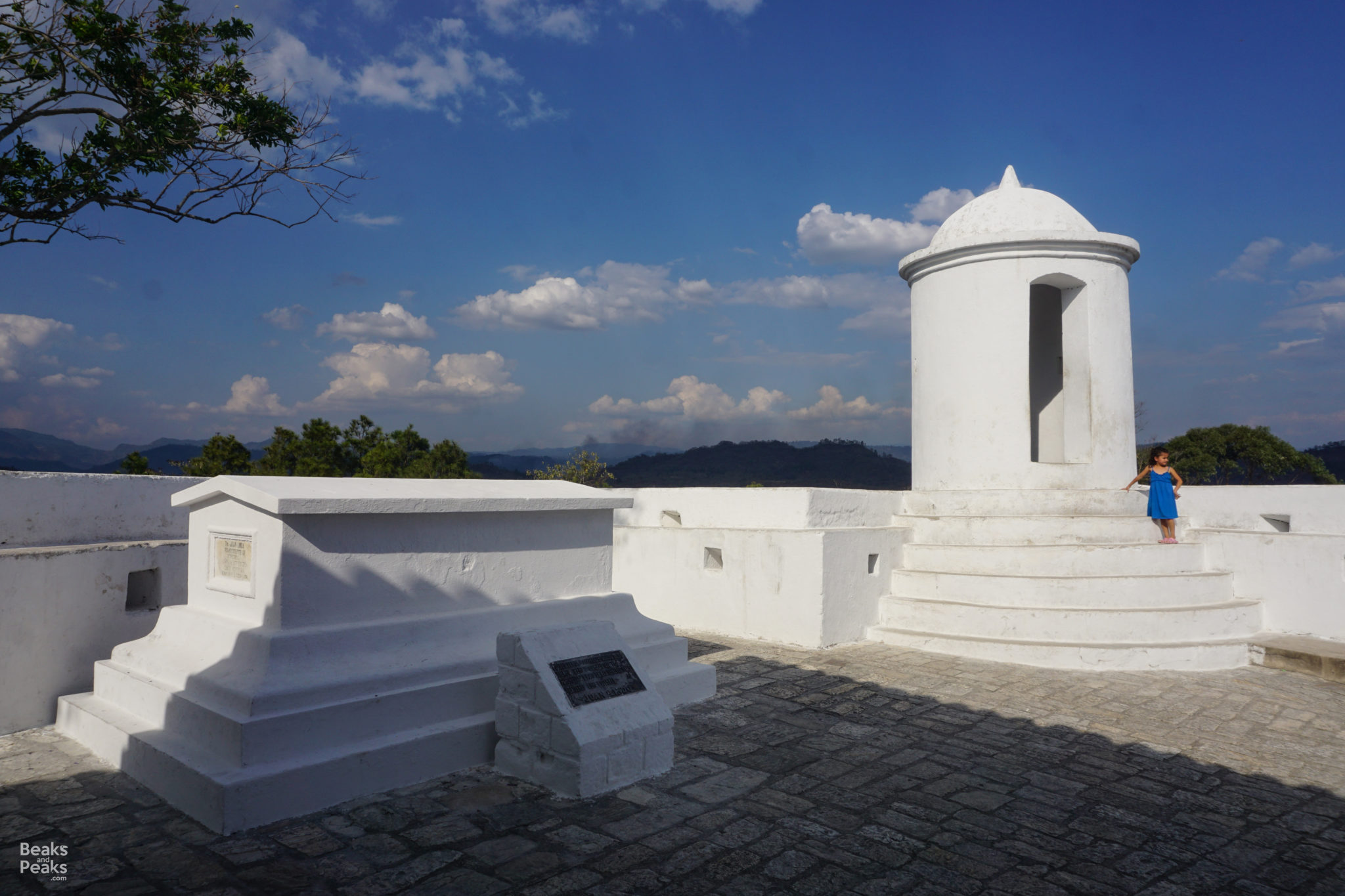 The San Cristóbal fortress in Gracias, Lempira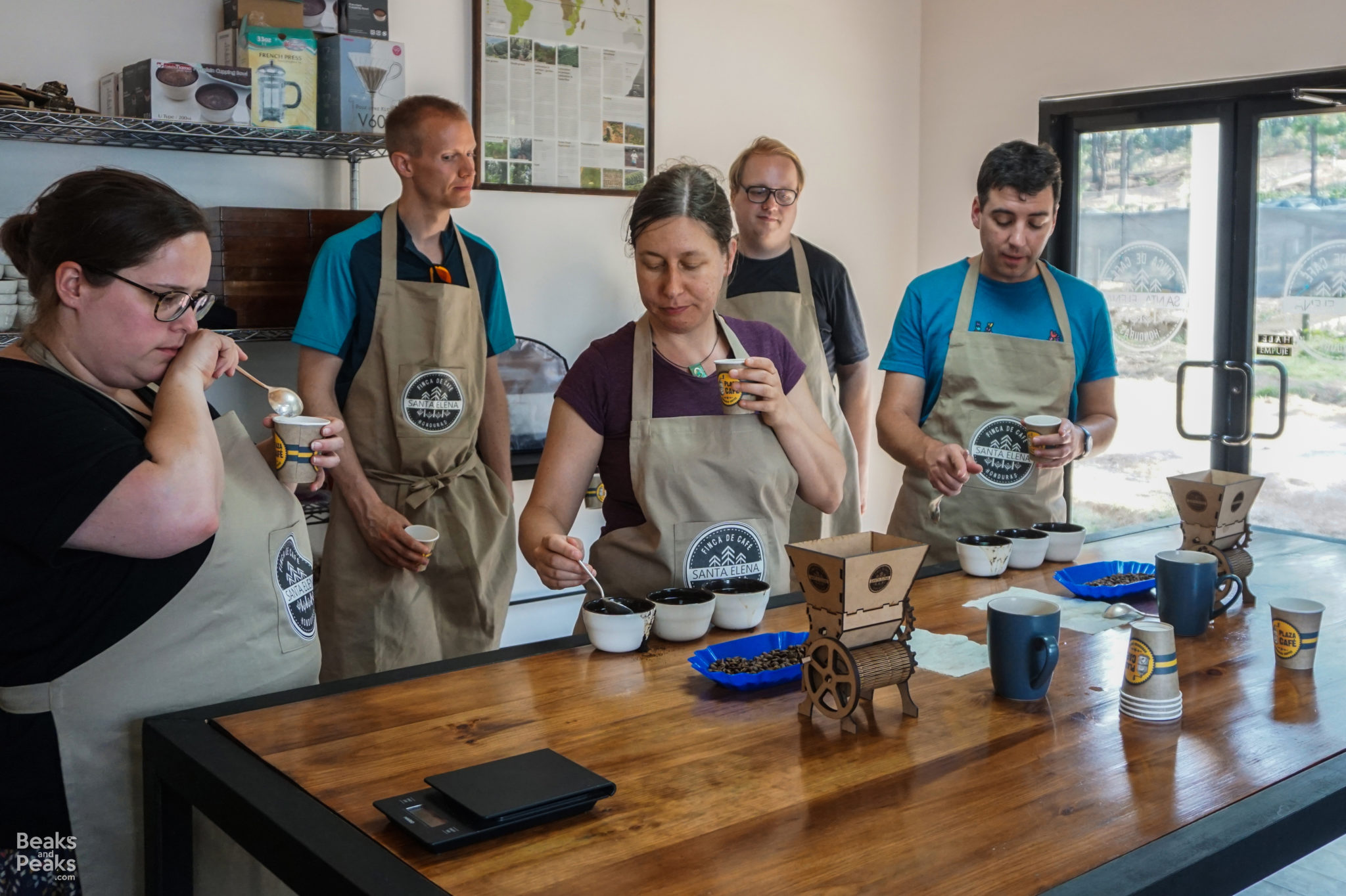 Coffee 'cupping' workshop
Day 5 | Transfer to Finca Santa Elena. Coffee tour and cupping workshop

After breakfast, we drive to Santa Elena, a coffee finca near Gracias. There, we will explore the coffee's production process, how it gets from the coffee plant to your cup. We visit the finca, look at the different varieties grown here, the steps that are being taken to make the finca more environmentally friendly, etc. Unusual about this finca is that a lot of the coffee is grown beneath pine trees (usually coffee is grown under deciduous trees or banana trees), which gives their coffee a unique flavour. But we'll let you be the judge, because to top top off the tour, we will have a coffee tasting or 'cupping' workshop, with only locally produced coffees!
By the way, the finca is a great place to spot some bird species you will only find in the pine forests of Central America: Bushy-crested Jay, Rusty Sparrow, Black-headed Siskin, etc. The owners are determined to better protect the birds living near the finca and to equip it specially for birdwatchers, something we of course highly encourage!
Day 6 | Transfer to Lake Yojoa. Kayaking on the lake

Today we drive to the only natural lake in Honduras: Lake Yojoa. The area around the lake is probably the most diverse in the country. In the centre is the lake itself, surrounded by swamps and marshland. On either side of the lake are tall mountain ranges. Their lower slopes teem with pine trees and oak, higher up are the cloud forests of Santa Bárbara (to the west of the lake) and Cerro Azul Meámbar (to the east).
We'll give our legs the day off for once and put our arms to work: we'll go kayaking on the lake. If you're looking for something a bit wilder, we can do the first part on a small river instead of the canal: wet clothes and fun guaranteed!
As our base camp for the lake portion of the trip, we have chosen a micro-brewery, so we can enjoy a well-deserved home-brewed beer around the camp fire after another active day in the outdoors.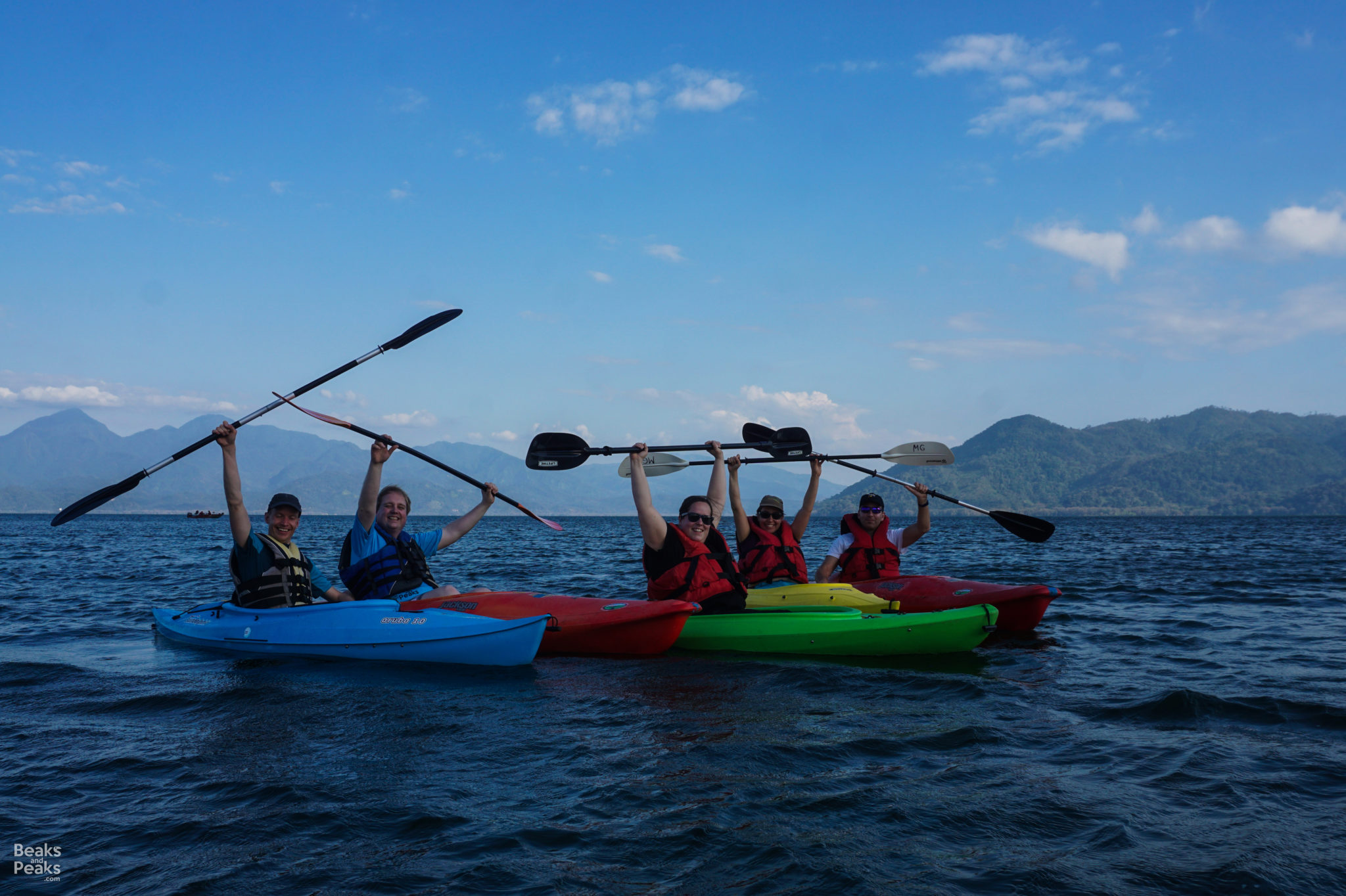 Kayaking on breathtaking Lake Yojoa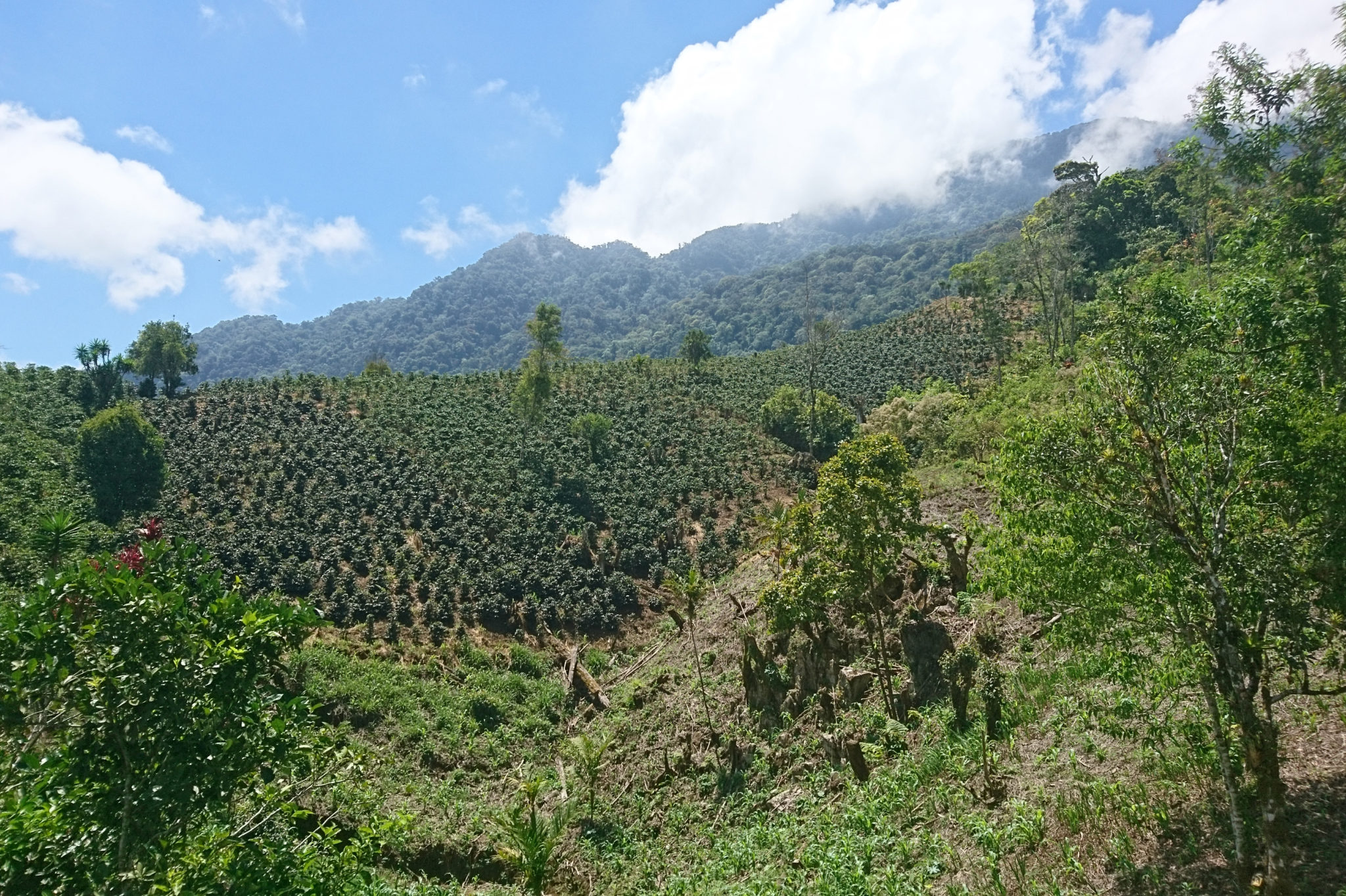 Patchwork of coffee plantations and cloud forest in Santa Bárbara
Day 7 | Hiking in Santa Bárbara (Fuente de Vida ecotourism project)
La Fuente de Vida is an ecotourism project at the base of National Park Santa Bárbara. The locals here, like so many in Honduras, depend mostly on coffee production. Because of an international preference for "high altitude" coffee and because of the low prices being paid to local coffee farmers, they are forced to go higher into the mountains, increasing their planting and deforestation, just to provide for their basic needs. In an attempt to protect the national park without hurting the people's income, three communities have decided to venture into ecotourism. Guides have been trained, the women have been taught to cook delicious (and hygienic) meals, several land owners have decided to protect their lands and to open it to tourists, trails have been created, etc. By opening up an alternative source of income, the locals hope to become less dependent on coffee-farming and to protect the forest rather than cut it down. It is a commendable project and we are very happy to support it!
Today, we'll visit the showpiece of the project, the "Quetzal-trail". We see the Resplendent Quetzal here about 90% of our visits. Birdwatchers among you will know there is no such thing as a guarantee, but this is certainly one of the best places to see these magnificent creatures.
Day 8 | Transfer to north coast. Hiking/birdwatching in Río Santiago
We drive from the lake to the Honduran north coast. The Caribbean beaches will have to wait a little longer while we explore the rainforest of Pico Bonito National Park.
Our destination today is Río Santiago, also known as the "Hummingbird Paradise of Honduras". Rightly so. You won't know where to look first while hundreds of hummingbirds zoom by, attracted by the dozens of feeders hanging around the bar! So far, 25 different species of hummingbird have been registered here (of course not all at the same time of year). The domain also has a few beautiful hiking trails and a crystal-clear river to catch your breath and cool down after the hike.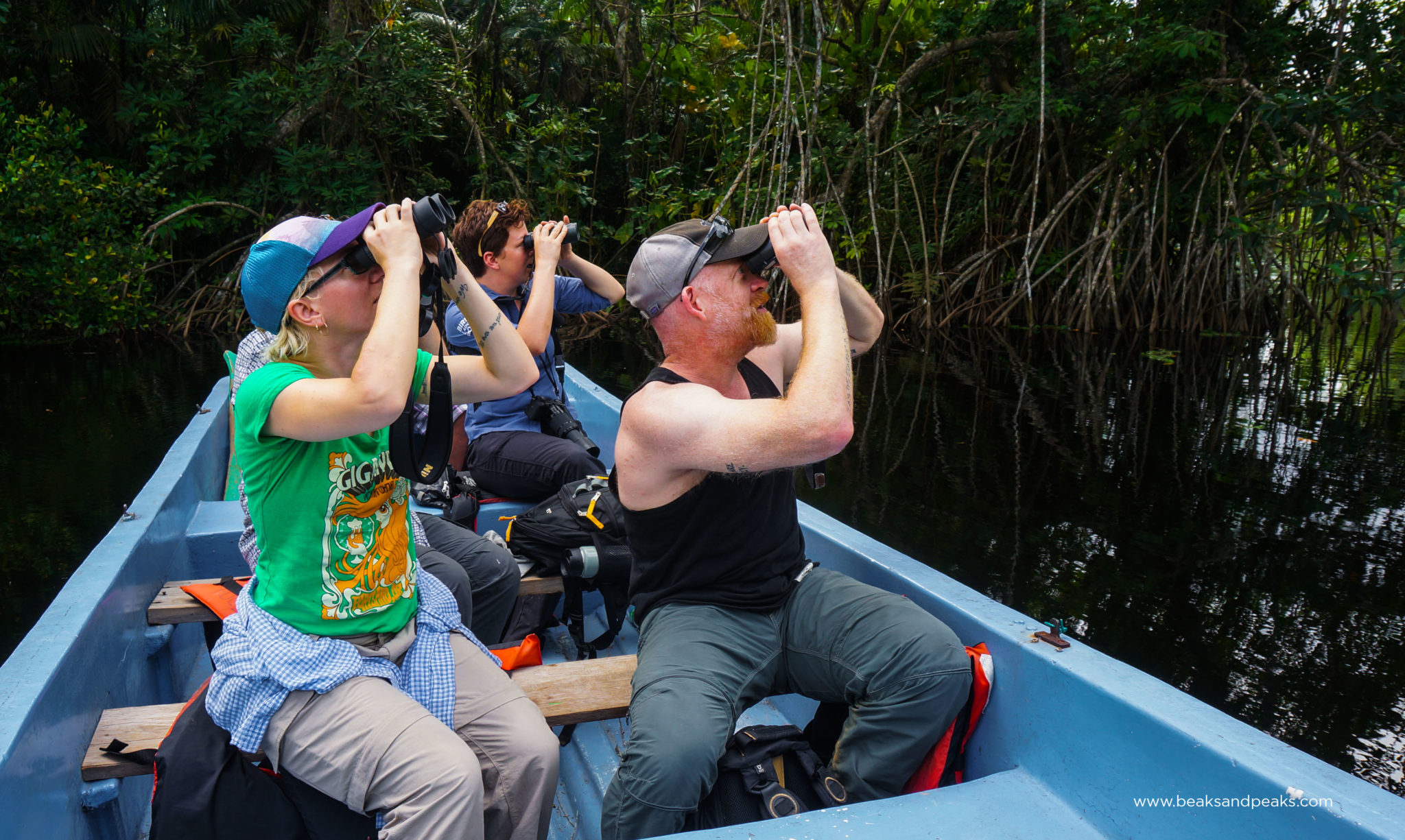 Boat ride in Cuero y Salado mangroves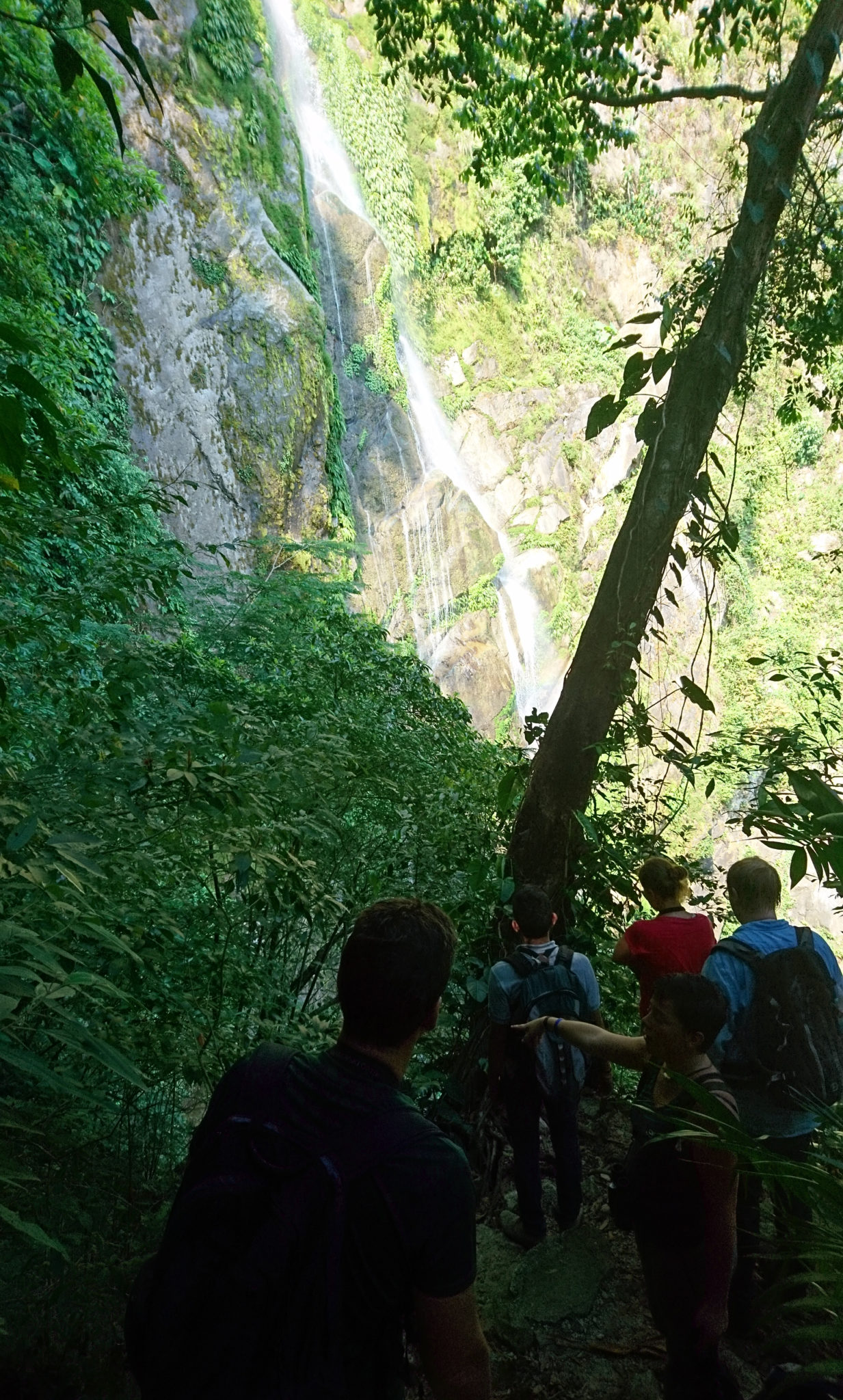 Day 9 | Boat trip through the mangroves of Cuero y Salado. Optional hiking or swimming at Río Zacate
Today we'll catch a ride on the only train in Honduras. "Train" may be overstating it, considering the rickety waggons that will take us along a bumpy track to the nature reserve of Cuero y Salado, but the views are breath-taking and the experience is highly authentic. The waggons date back to the one and only "banana republic", when the American Fruit Company used the train to haul bananas from the hinterland to the coast. Besides the train, not much is left to remind of the previous use of the land: it was transformed into a research site many years ago. It remains a research site to this day, besides being a magnificent nature reserve. Here, research is conducted to determine which mangrove species are the hardiest, which grow the fastest, under which conditions, etc.
When we reach the river, we will hop aboard a lancha, an open boat with outboard motor. We will make our way through the mangroves, searching for Agami herons, American Pygmy Kingfishers, howling monkeys, etc.
A local family will prepare a delicious fish lunch for us. After that, we can either opt for another rainforest hike, this time along the Río Zacate, or a refreshing swim, or a relaxed afternoon at the hotel.
Day 10  | Hiking in National Park Pico Bonito
Hopefully the activity of the last ten days prepared your leg muscles for today, because we will undertake the most strenuous and adventurous hike of them all. We cross the Rio Cangrejal via a swinging suspension bridge, and then follow a rainforest trail up to a stunning waterfall. The trail is narrow and sometimes steep, with rocky passages here and there. However, you would not want to miss out on an incomparable experience – this is the true jungle!
After a long climb, we will reach the waterfall viewpoint. If the sun is out, and the rocks are not too slippery, we climb down a primitive staircase and some big rocks for an even better look of the waterfall.
The descent back to the suspension bridge afterwards is relatively easy (apart from one rocky passage and a few brief climbs). And the rest of the day, we'll just be lazy, we've earned it!
Day 11 | Rafting on the Río Cangrejal. Flight to Guanaja
The Honduran north coast is a true paradise for all adventure lovers. After yesterday's tough hike, today we will go for a completely different outdoor activity. We will go white-water rafting on the Río Cangrejal. Don't worry, our guides have loads of experience, so you'll be in good hands! We will stick to the lower reaches of the river (rapids up to class III-IV), we'll save the class V and VI for your next trip!
Safety first, of course, so we'll get a swimming test first and you'll be taught how to get yourself to safety in case you go overboard, how to pull your colleague back on board, etc. You never know. Then you'll get instructions on paddling, a short drill, and then we're all set to go! About three hours downstream to La Ceiba! Difficult rapids alternate with calmer stretches to catch your breath. You'll feel alive!
After a very active morning and a hearty lunch, we'll drive to La Ceiba airport. We'll board a plane (max. capacity ten people) to take us to the paradise island of Guanaja. Caribbean, here we come!
Day 12 | Hiking along the waterfalls
Today we'll be a little more active again. After a short boat ride, we will hike to a gorgeous waterfall. The north coast of Guanaja is exactly what you would expect from a Caribbean island. Maybe it's a cliché, but it's all true: pearly white beaches, wedged between green palm trees and the turquoise Caribbean Sea. Lunch will be served in a charming little beach-side restaurant. For the more audacious among you: it's tradition to dive into the water before lunch, straight from the window into the azure water! After a delicious lunch – fresh fish, of course, fried in coconut oil, yum! – we return by boat.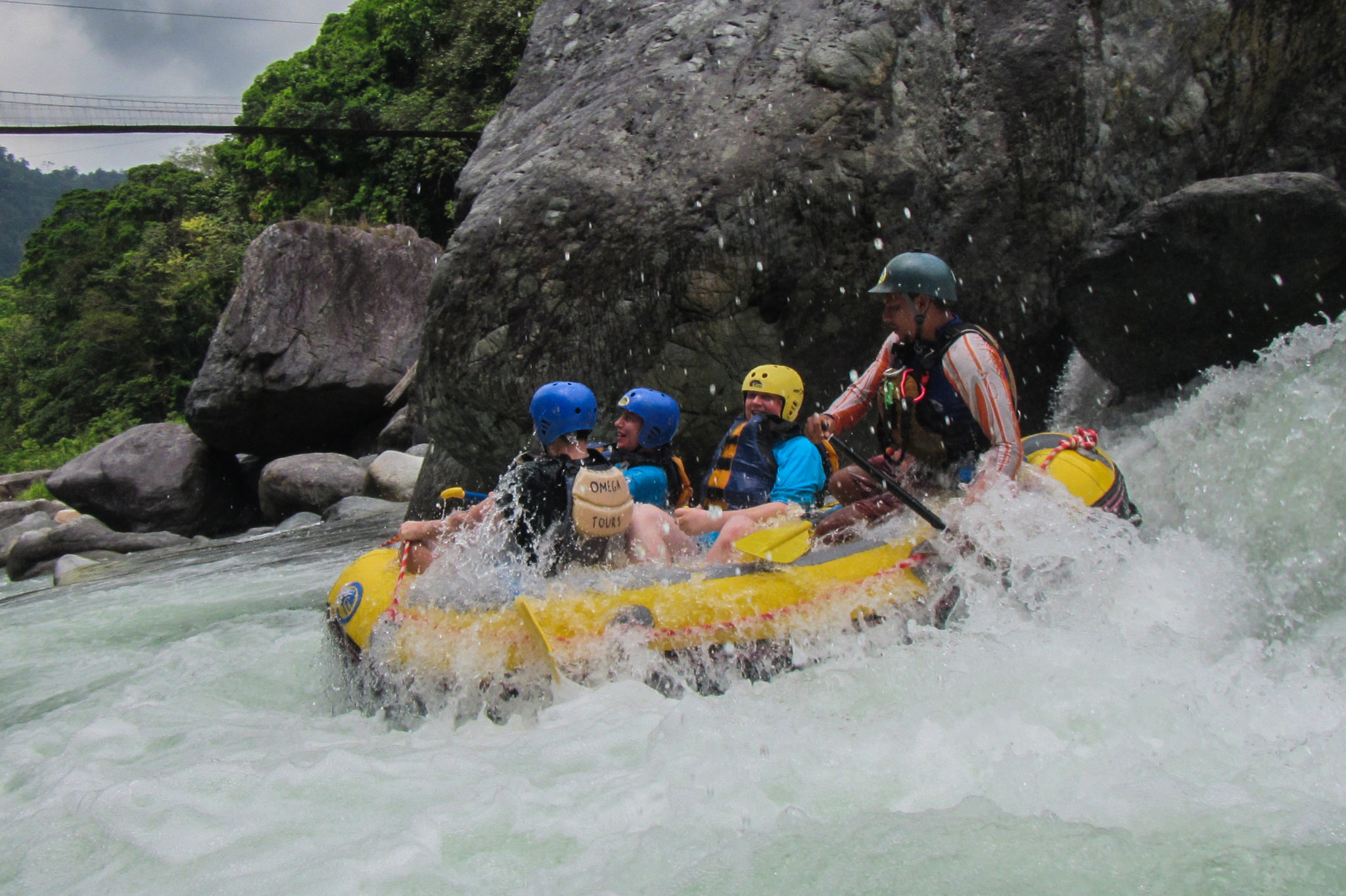 White-water rafting on the Rio Cangrejal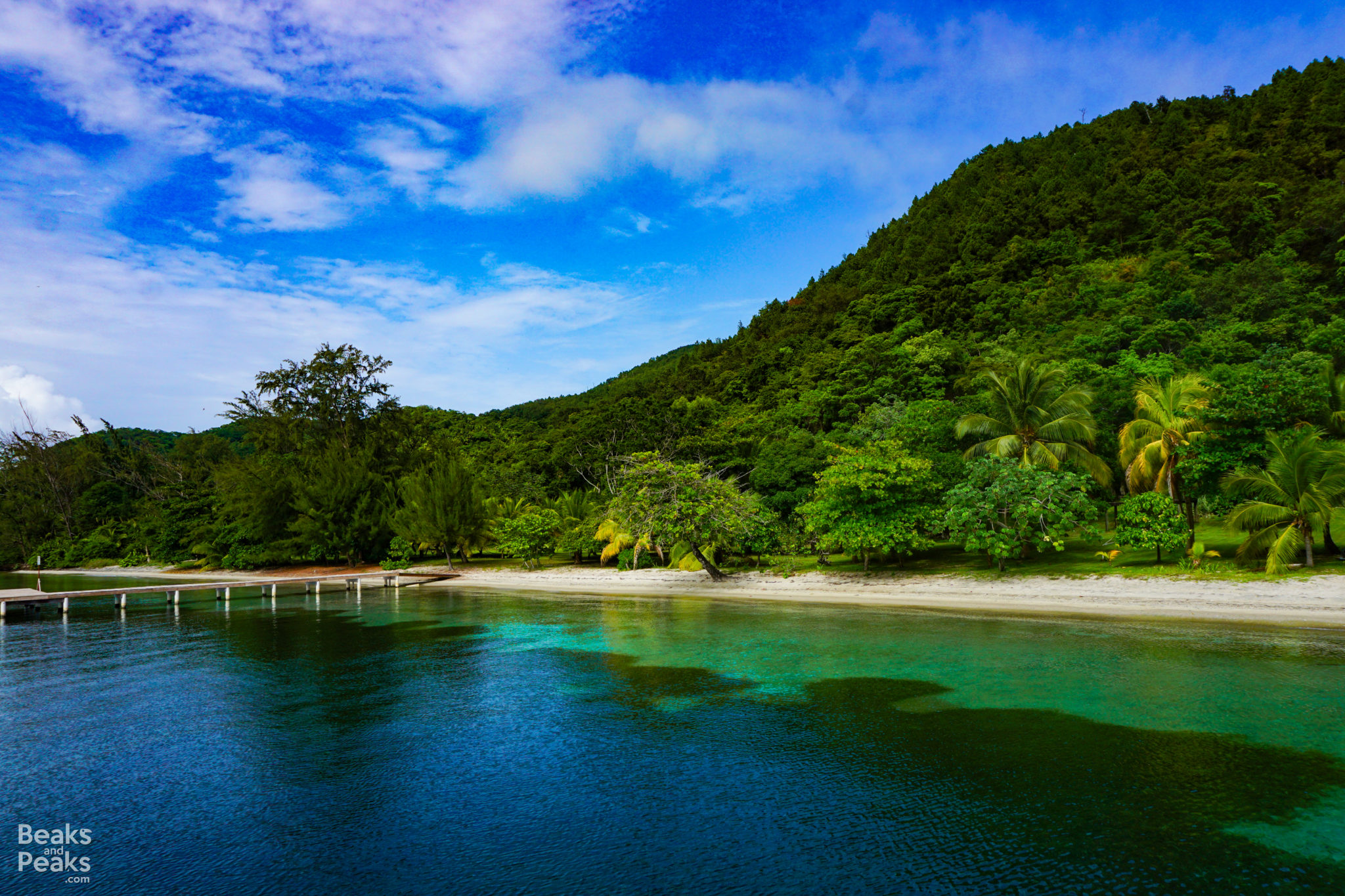 White sandy beaches and turquoise waters of Guanaja
Day 13 | Snorkeling and relaxing. Transfer to Tela
Today is your last day in the land of plenty of Guanaja. There's time to snorkel and swim, to birdwatch, play pool, laze around, whatever takes your fancy. Anything goes (well, almost anything). Enjoy, because in the afternoon our little plane will be ready to return us to the mainland, to the small coastal city of Tela. Over here, we enjoy our last dinner together next to the beach.
Day 14 | Transfer to San Pedro Sula
Unfortunately, all good things must come to an end, and so it goes with your varied voyage through Honduras. We'll make sure you are back at the airport of San Pedro Sula on time for your return flight. We hope you enjoyed our time with us!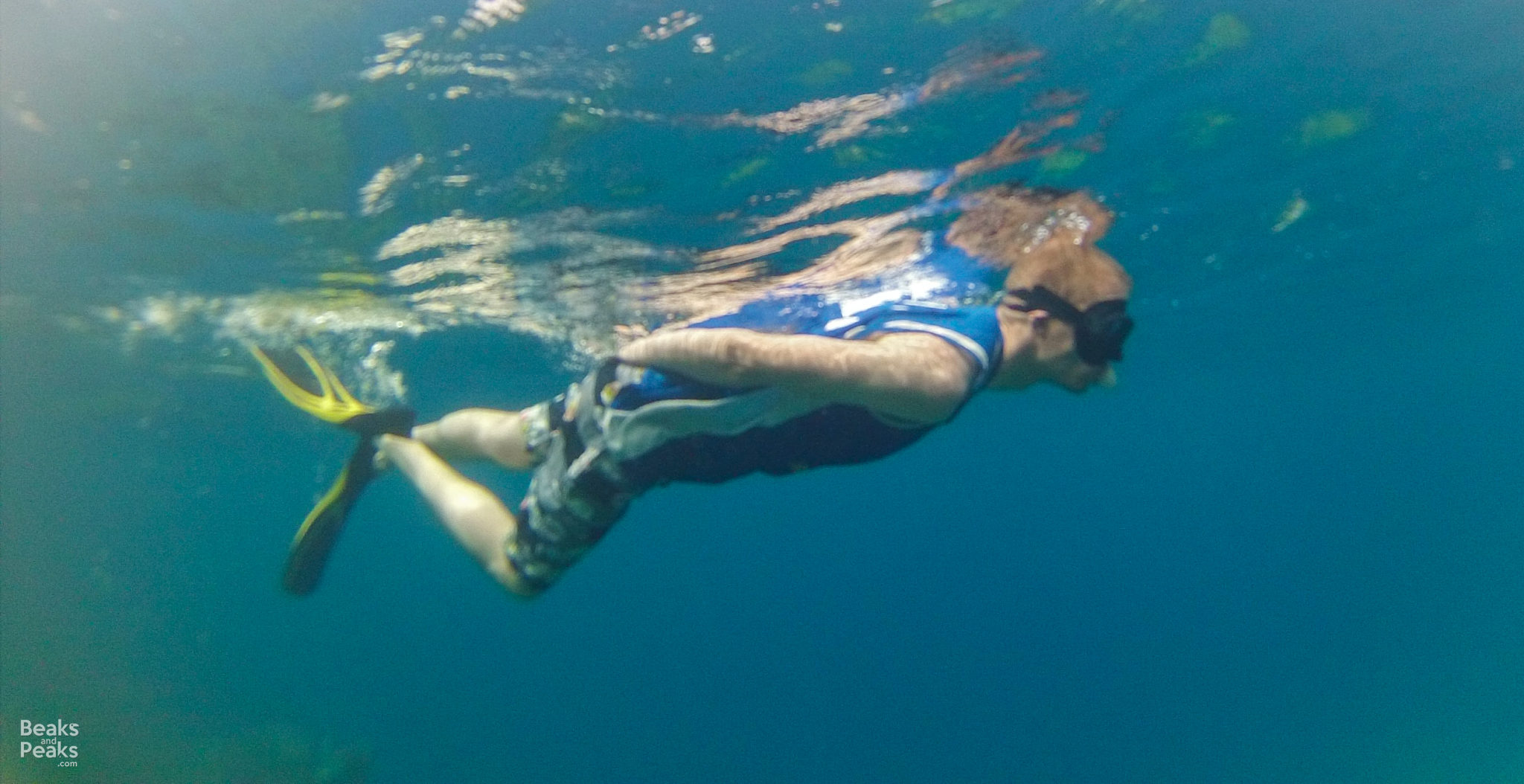 Snorkeling in the Caribbean Sea off Guanaja