Honduras' Birding Highlights
Honduras is the heart of Central America. The country is sandwiched between Guatemala, El Salvador and Nicaragua. It has a long coastline in the north, on the Caribbean Sea, and a small piece on the Pacific coast in the south, the Gulf of Fonseca. The capital is Tegucigalpa, often abbreviated to Tegus. San Pedro Sula is the second largest city in the country and the economic center. Other towns of any size are La Ceiba on the north coast and the twin cities La Esperanza and Intibucá in the central highlands.
Honduras is a mountainous country (the highest point being Cerro de las Minas in Celaque NP, towering 2849m above sea level), with a whole range of vegetation and habitat types: rainforest, deciduous forest, pine forest, mangrove, sandy beaches (pearly white on the north coast, volcanic black in the south), cloud forests, and so on. That diversity in ecosystems also explains the huge variety of birds (776 species to date, and more are being discovered regularly), insects, plants, mammals…
Since Honduras has not yet been discovered by the big crowds of tourists, there are still many unspoilt natural places. Here you can still spend hours or days wandering the mountains and forests without ever encountering even one other person. Honduras is therefore a paradise for any nature lover.
This Honduras' Birding Highlights trip takes you through three of the four quarters of the country. We start our tour in La Tigra National Park, where the cloud forest offers excellent mountain birding along wide and fairly easy trails. This is the home of some key species such as the Wine-throated Hummingbird, Green-breasted Mountain-Gem, Singing Quail or White-faced Quail-Dove.
To talk about Gracias is to talk about the impressive mountains of Celaque National Park, which is characterized mainly by pine- oak forest, dry forest and cloud forest on the park's highest elevations. These types of habitats support motmots, hummingbirds, antbirds and toucans, and two stunning prize birds, for Celaque is also home to the elusive Ocellated Quail and to Honduras' only endemic the Honduran Emerald!
DEPARTURES
February 22 to March 5, 2017 (option*)
November 14 to 25, 2017 (option*)
*min. 4 participants are needed to guarantee departure (and max. 8)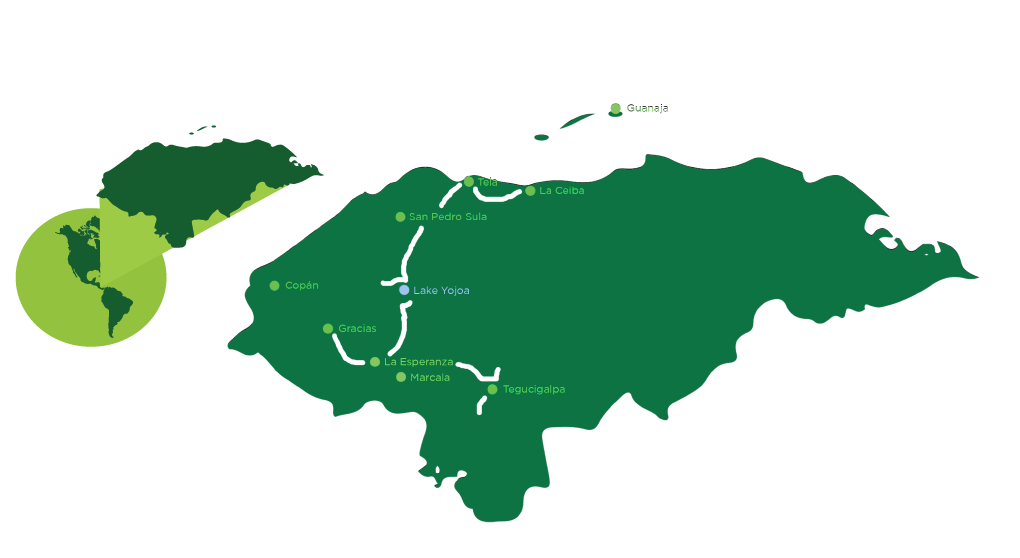 BRIEF SUMMARY
Day 1
Arrival at Tegucigalpa airport and birding around the hotel
Day 2
Birding in La Tigra NP
Day 3
Birding around Cerro de Hula and transfer to Gracias
Day 4
Birding at Honduran Emerald and Ocellated Quail locations
Day 5
Birding in Celaque NP & transfer to La Esperanza
Day 6
Birding in El Consejero private reserve & transfer to Lake Yojoa
Day 7
Birding in Santa Barbara NP and visit to La Fuente de Vida project
Day 8
Birding in Lake Yojoa wetlands and transfer to Pico Bonito NP
Day 9
Birding in Rio Santiago Nature Resort
Day 10
Birding in Cuero y Salado mangroves
Day 11
Birding at Pico Bonito Lodge
Day 12
Transfer to San Pedro Sula airport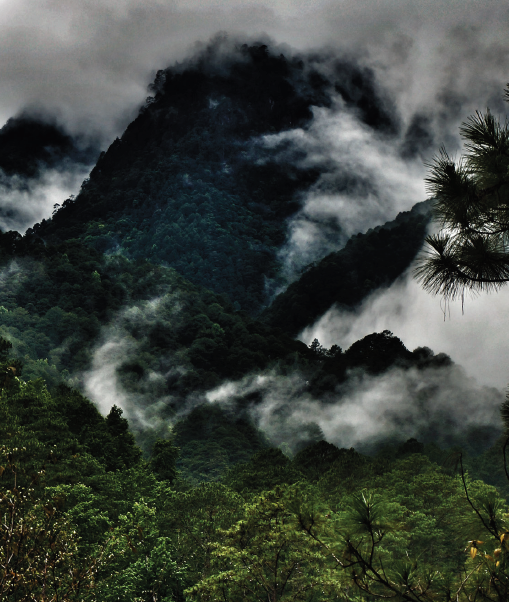 Cloud forest of Celaque National Park
La Esperanza is the highest city in Honduras, which gives it a rather cool – an in wintertime simply cold – climate. The pine and pine-oak forests around the city are a great location to see Bushy-crested Jay, Steller's Jay, Rufous-collared Robin, Band-tailed Pigeon, Brownbacked Solitaire or Red Crossbill, among others.
Rising majestically above the beautiful Lake Yojoa in central Honduras are two of the country's more impressive mountain ranges: Montaña Santa Barbara and Cerro Azul Meámbar. Here the combination of limestone and volcanic landscapes surrounding the lake supports a rich diversity of habitat types — including freshwater wetlands, pine-oak forest, lowland rainforest and cloud forest — and a corresponding diversity of plants and animals. Some species of interest we can find here are the Keel-billed Motmot, Prevost ground-Sparrow, Resplendent Quetzal, Emerald-chinned Hummingbird, Barred and Collared Forest-Falcons, Collared Araçari, Blue-crowned Motmot, Masked Tityra, Crimson-collared Tanager, Northern Barred Woodcreeper
The north-facing coast is characterized by long beaches interspersed with rocky headlands, coastal wetlands and mangroves and the coastal mountain ranges of Nombre de Dios and Pico Bonito National Park. The extensive rainforest of these mountains harbors a wealth of top species including the Shining Honeycreeper, Yellow-bellied Tyrannulet, Long-billed Hermit, Crowned Woodnymph, Rufous Mourner, Black-and-White Owl, Purple-crowned Fairy or Tody Motmot, whereas the mangroves are home to specialties such as American Pygmy Kingfisher, White-necked Puffbird, or Agami Heron.

Lake Yojoa and the Santa Bárhara mountains in the background
This Honduras' Highlights Tour was elaborated for the more avid birders. We will have time to learn about culture, history, and nature in general, but the focus is clearly on seeing a variety of great Honduran bird species. Also, though you don't have to be an athlete, the trip does require a general level of fitness, as some of the walks can be a bit more strenuous, especially in La Tigra and Celaque. The trails are not difficult and no special experience is necessary, but you should be able to walk for a couple of hours – of course at a slow pace and with many stops as we will be birding all along the way.
Day-by-day itinerary
Day 1 | Arrival at Tegucigalpa airport and birding around the hotel
The tour begins with afternoon birding around Hotel Los Gloriales. Here we can find higher elevation species such as the Blue-and-white Mockingbird, White-eared Hummingbird, Blue-crowned Motmot, White-breasted Hawk and more. After nightfall, we enjoy chatting and getting to know each other during a hearty welcome dinner.
Day 2 | Birding in La Tigra NP

La Tigra National Park offers great birding and a wide array of hummingbirds such as the Wine-throated Hummingbird, Greenbreasted Mountain-gem, Green Violet-Ear and Sparkling-tailed Woodstar. But we won't only look out for hummers, there are obviously other interesting species we might encounter too, including the Emerald Toucanet, Singing Quail, Resplendent Quetzal, Mountain Trogon, Spotted Woodcreeper, Barred Forest-Falcon, Mountain Elaenia, Rufous-browed Wren, Slate-colored Solitaire and many more.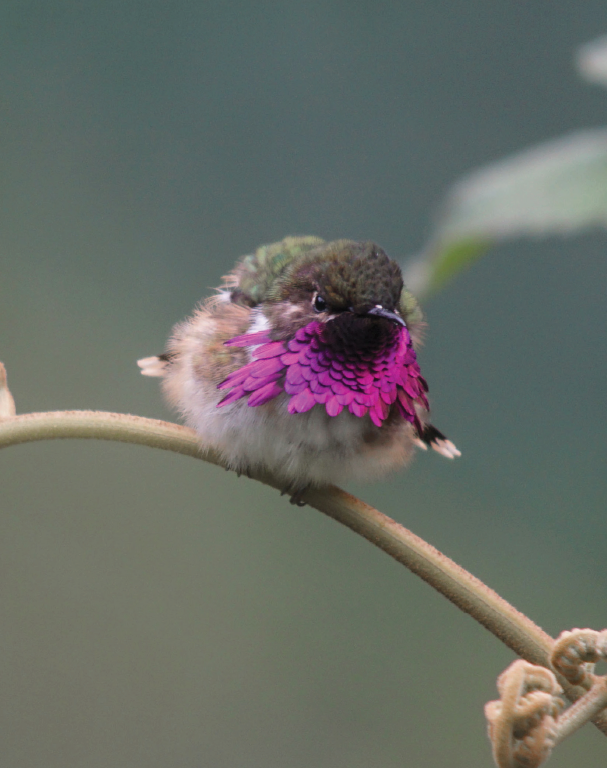 Wine-throated Hummingbird
Day 3 | Birding around Cerro de Hula and transfer to Gracias
This morning we go birding around Cerro de Hula, an area south of Tegucigalpa which is mostly known because of the windfarms. However, there are also some excellent birding spots around. The pine forests interspersed with fields of flowering "pie de niño" and "red salvia" here attract lots of hummingbirds, and if we are lucky we may even see the elusive Sparkling-tailed Hummingbird or Slender Sheartail! There will also be Olive Warblers, Rufous-browed Peppershrikes, Bushy-crested Jays, Buff-breasted Flycatchers, Ocellated Quail, Crested Bobwhite and many other species to observe.
Afterwards, we drive to the small colonial town of Gracias, Lempira, situated at the foot of Parque Nacional Celaque, which boasts the highest peak of Honduras. Our hotel is located amidst pine forest, woodland and coffee plantations. In this bird-rich area, we are likely to encounter species such as the Mesoamerican endemic Bushy-Crested Jay, Laughing Falcon, Turquoise-browed Motmot, some resident warblers such as the Common Yellowthroat and Rufous-capped Warbler, and other birds like the Altamira Oriole, Black- headed Saltator, Mountain Trogon, Flame-colored Tanager and Yellow-backed Oriole.
Day 4 | Birding at Honduran Emerald and Ocellated Quail locations

Today we search for the only endemic bird of Honduras so far: the Honduran Emerald! The region is also home to many other drier-country birds, amongst others the Elegant Trogon, Striped Cuckoo, Turquoise-browed Motmot and many more. Along the Río Grande, we will also see some water birds such as Green Herons, Black Phoebes, different Kingfisher species etc. In the afternoon, we drive up into Celaque National Park to get one of our targets birds: the elusive Ocellated Quail. A hard bird to get, but Celaque NP offers some excellent opportunities, so keep your fingers crossed that you are one of the lucky few to get a glimpse of this shy quail. Other species we may see up here are King Vulture, Crested Bobwhite, Azure-crowned Hummingbird and many more.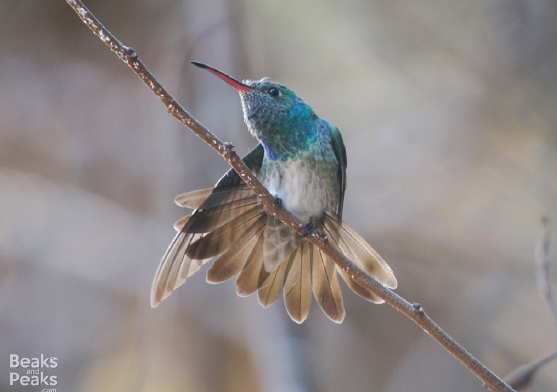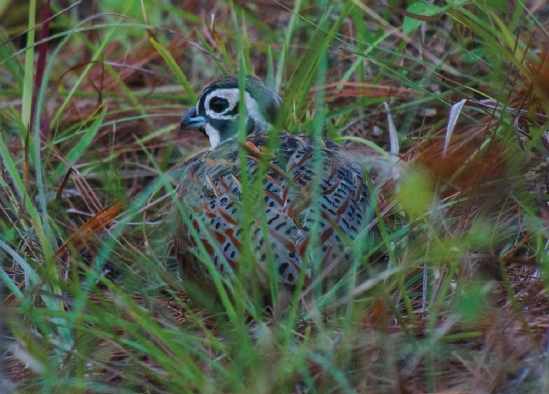 Day 5 | Birding in Celaque NP & transfer to La Esperanza

This morning we walk the lower elevation trails of Celaque National Park. We will be looking out for Chestnut-capped and White-naped Brushfinch, Brown-backed and Slatecolored Solitaire, Green-throated Mountaingem, White-eared Hummingbird, Olivaceous Woodcreeper etc.
We then head to La Esperanza, or rather to the twin cities of La Esperanza and La Intibucá. La Esperanza is the newer capital of the Intibucá department with a mainly ladino population, whereas Intibucá used to be a small which indigenous Lenca community. However, due to expansion of the cities over time, the two are now merged and sheer impossible to tell apart. La Esperanza-Intibucá is the highest city in Honduras, offering a cool – or in winter even cold – climate. Depending on our time of arrival, we may bird a little around the hotel, or take some time for relaxing.
Day 6 | Birding in El Consejero private reserve & transfer to Lake Yojoa

Close to La Esperanza, in Yamaranguila, Beaks and Peaks is working with the local Bu family in a small ecotourism project. This very humble family has created a hummingbird garden, which already attracts 8 different types of highland hummingbirds. We will see Magnificent Hummingbird, White-eared Hummingbird, Amethyst-throated Hummingbird etc. We may even see Sparkling-tailed Hummingbird on their feeders. And during migration this is a stop for the Ruby-throated Hummingbirds coming from the United States. Other species of interest here are Rufous-collared Robin, Bushy-crested Jay, Steller's Jay, White-naped Brushfinch or Band-tailed Pigeon.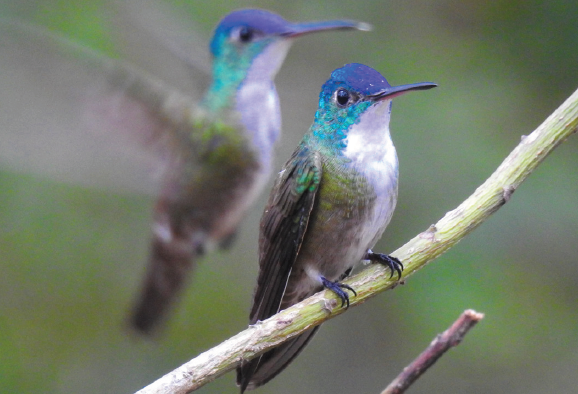 Azure-crowned Hummingbirds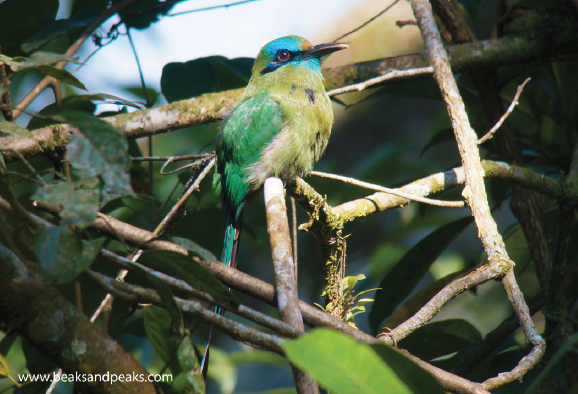 After our morning birding, we drive to Lake Yojoa, home to the biggest variety of bird species in Honduras. We have lunch at a restaurant on the Lake which offers splendid view over the lake and the surrounding wetlands and marshes. Over here we can spot water birds such as Pale-billed Grebes, Black-bellied Whistling Ducks, Bare-throated Tiger- Herons, Ringed Kingfishers, Snail Kites, Lesser Yellow-headed Vultures and so on.
After lunch, we drive up to our hotel PANACAM Lodge. Once we are settled, we have time for afternoon birding around the Lodge in search for the Black-crested Coquette, Barred Forest- Falcon, Collared Araçari, Keel-billed Motmot, Blue-crowned Motmot, Masked Tityra, Crimson- collared Tanager, Blue-crowned Chlorophonia, White-throated Thrush, Long-billed Hermit, Violet Sabrewing and more.
Day 7 | Birding in Santa Barbara NP and visit to La Fuente de Vida project
This morning we drive up to Santa Bárbara National Park. We visit the La Fuente de Vida ecotourism project that Beaks and Peaks is supporting. The communities up here are trying to protect a beautiful parch of forest for the future. They have decided to make the change from exclusive coffee growing to providing sustainable tourism services. They have for example built a series of beautiful trails that offer excellent birdwatching opportunities
Very early in the morning, we drive up to the community. That should take us about an hour. Upon arrival we enjoy breakfast with one of the local families and after that we start looking for birds such as the Prevost- ground Sparrow, Ornate Hawk-Eagle, Resplendent Quetzal, Emerald-chinned Hummingbird, White-breasted Hawk, Green- throated MountainGem, Buffy-crowned Woodpartridge, Slate-colored Solitaire, Rusty Sparrow, Collared Trogon, Spotted Woodcreeper, Ruddy Foliage-Gleaner, Scaly- throated Foliage-Gleaner, Buff-throated Foliage-Gleaner, Black-headed Nightingale- Thrush, Chestnut-capped BrushFinch, White-naped Brushfinch, Spot-breasted Wren etcetera.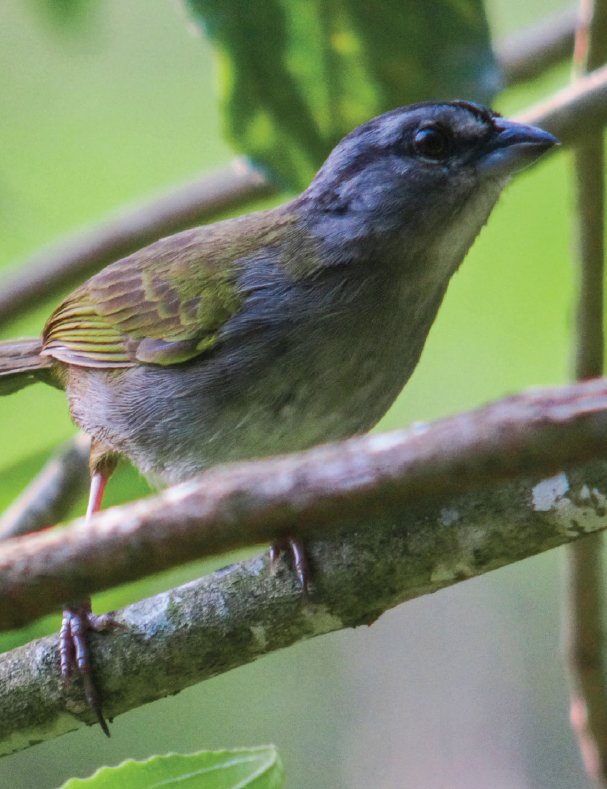 Day 8 | Birding in Lake Yojoa wetlands and transfer to Pico Bonito NP

Today we do some early morning birding around the Lake, searching for more great species such as the Masked Duck, Least Bittern, Fork-tailed Flycatcher, Blackcrowned Tityra, Green-backed Sparrow, Rufous-breasted Spinetail, Grey-breasted Crake and others.
We then have a long drive ahead of us, all the way to Pico Bonito on Honduras' north coast, in the Nombre de Dios mountains. Upon arrival, it will be time for dinner and a good night's sleep so we are fit again the next morning for yet more birding at our last destination.
Day 9 | Birding in Rio Santiago Nature Resort
We get up early in the morning to hike the beautiful trails of Rio Santiago Nature Resort. Here, we will have the chance of seeing some stunners such as White Hawk, Olive-backed Euphonia, Golden-hooded Tanager, Keelbilled Toucan, Yellow-bellied Tyrannulet, Black-crested Coquette, Spectacled Owl, Tawny-winged Woodcreeper, Royal Flycatcher, Sunbittern and many more.
After our hike, we spend the rest of the day 'lazy birding' around the dining area. That doesn't mean, however, that you won't see plenty of birds. Rio Santiago is also known as Honduras' 'Hummingbird Paradise'. Up to 22 different species of hummingbirds have been recorded here, and many of them come to the feeders at the restaurant: White-necked Jacobin, Brown Violet-Ear, Crowned Woodnymph, Blue-throated Goldentail, Blue-tailed Hummingbird, Scaly-breasted Hummingbird, Stripe-throated Hermit, Long-billed Hermit…
Day 10 | Birding in Cuero y Salado mangroves
On the schedule today is a visit to Cuero y Salado Wildlife Refuge. We board the only train that is still functioning in Honduras – it dates to the times of the 'Banana republic' and was indeed used to transport bananas. What remains now is are two rickety little wagons racing over crooked rails. Lots of fun. And excellent birding opportunities along the way: Glossy Ibis, Bat Falcon, Ferruginous Pygmy Owl, Black-cowled Oriole, Crested Caracara. At the visitors' center, we board a motorboat that will take us onto the rivers and canals of the Cuero y Salado Mangroves. Top species that we will try to get good looks at here include Agami Heron, White-necked Puffbird, American Pygmy Kingfisher, Black-crowned Antshrike and more. Lunch will be prepared by a local family upon our return from the boat ride.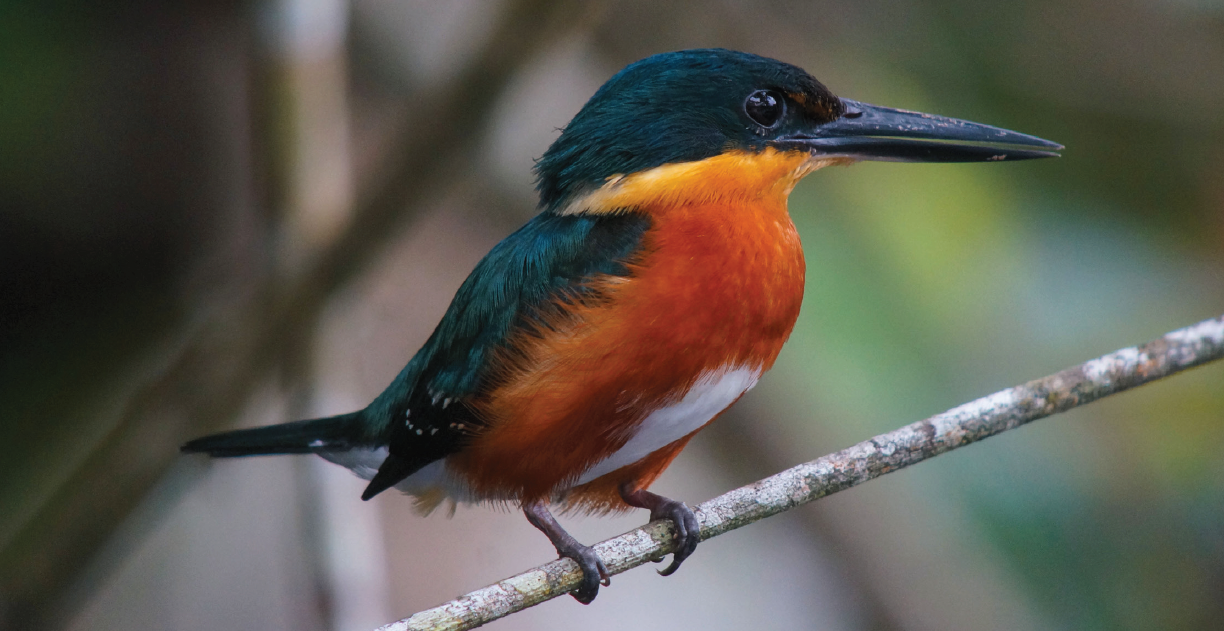 American Pygmy Kingfisher
Day 11 | Birding at Pico Bonito Lodge
Pico Bonito Lodge combines the adventure of the outdoors, the beauty of the rainforest, and the personal service of a boutique hotel. In this luxurious setting, we enjoy yet another splendid birding day, as the area offers an incredibly varied array of bird species such as Brown-hooded, White-fronted and White-crowned Parrots, Little and Great Tinamous, Grey-chested Doves, Olive-throated Parakeets, Black-cheeked Woodpeckers, Wedge-billed and Cocoa Woodcreepers, Paltry Tyrannulets, Guatemalan Screech-Owls, Great Potoos, Violetheaded Hummingbirds, Purple-crowned Fairies, Slaty-tailed, Gartered and Collared Trogons, Red-capped Manakins, White- and Grey-breasted Wood-Wrens, White-throated Thrushes, Olive-backed Euphonias, Kentucky Warblers, Giant Cowbirds, Red-throated and Red- crowned Ant-Tanager, Keel-billed Motmot, Green Shrike-Vireos and Black-faced Grosbeaks. And those are just a few examples.
Day 12 | Transfer to San Pedro Sula Airport
Your trip unfortunately has come to an end (unless you opted for the 3-day post-tour to Copán) and we will drive you to San Pedro Sula international airport in time for your flight. We hope you enjoyed the tour and wish you a safe journey home. And who knows… hasta la próxima?