Adventure and conservation
in Honduras
"Missouri Conservation Heritage Foundation has asked Beaks and Peaks to develop a number of tours in Honduras to help us with our conservation efforts for Missouri birds. Many of Missouri's birds migrate south to the beautiful habitats of Honduras and other Central American countries. Over the past couple decades, Missouri ornithologists in partnership with biologists from other states and countries have worked diligently to prevent the loss of bird habitat and migratory pathways both in the United States of America and in Central America. Our partnership with Beaks and Peaks is part of our efforts to continue funding and raising awareness of the importance of this work. Each time you purchase one of these Conservation trips, you are contributing toward the ongoing protection of bird habitat. I am excited about the adventure ahead of us!" – Cynthia Hawcroft, Research/Foundation Associate, Missouri Conservation Heritage Foundation
Thanks to its numerous unspoilt natural areas, Honduras is a paradise for anyone who loves outdoor adventure. This "Adventure and Conservation tour" takes you through several of Honduras' many different ecosystems on a variety of outdoor activities: whitewater rafting on the impressive Rio Cangrejal, kayaking on tranquil Lake Yojoa, hiking in the Santa Bárbara mountains or Pico Bonito rainforests, snorkeling in the crystal-clear Caribbean sea, or meeting the local people in the mountain villages… this tour has it all. So if you want to truly be in touch with nature, feel the adrenaline flowing through your body, experience the diversity of the tropics, and support conservation and sustainable development while you are at it, this is exactly the trip for you!
Please note that even though no particular skills or experience are required for this trip, we ask that — given the combination of high-pace travel, a warm and humid climate, and numerous rather strenuous activities — all participants are in good physical condition, able to walk for several hours, and reasonably good swimmers. If you have any doubts, please talk to us beforehand.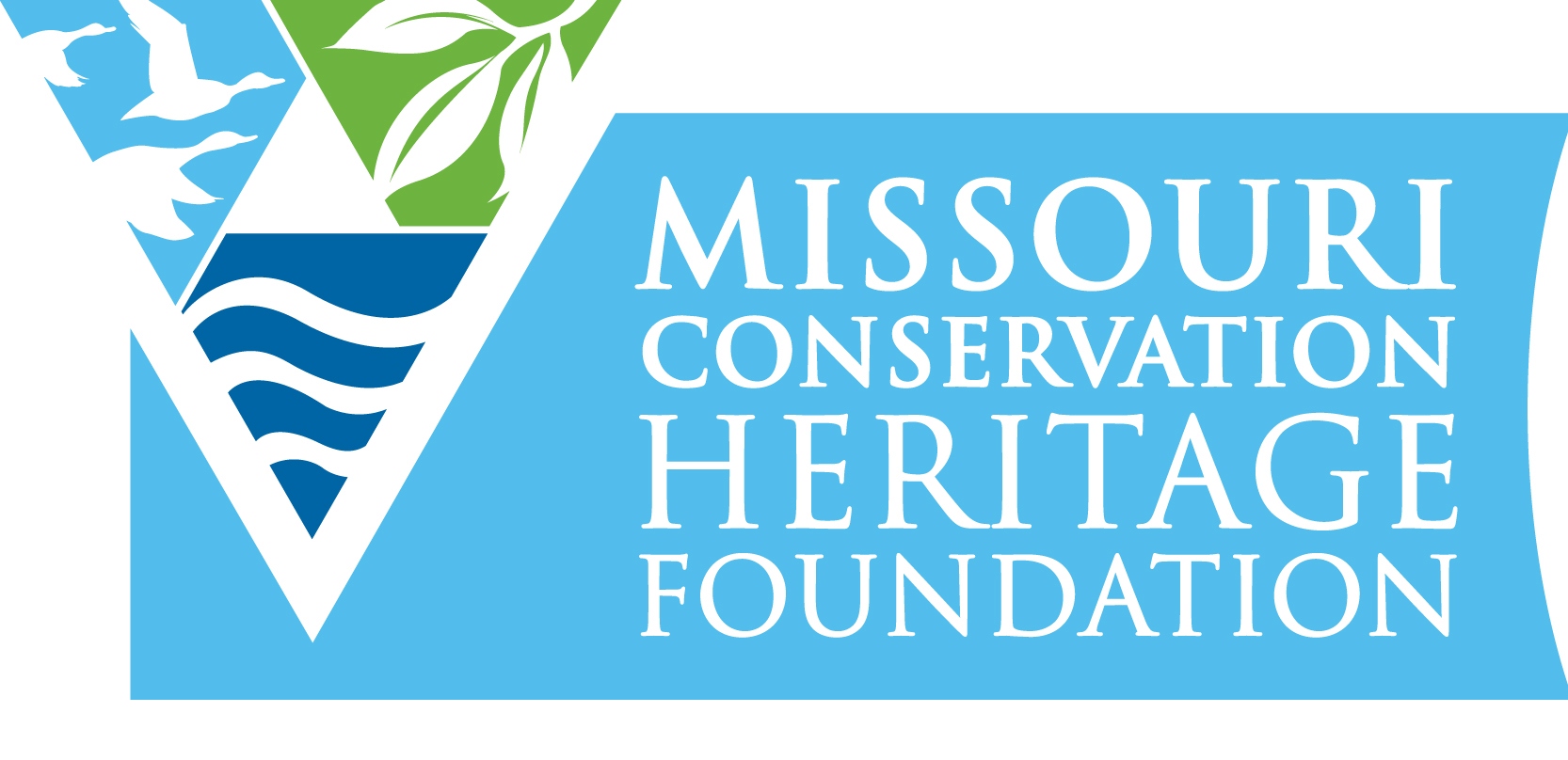 DEPARTURES
May 20-27, 2017 (option*)
July 22-29, 2017 (option*)
*min. 4 participants are needed to guarantee departure (and max. 8)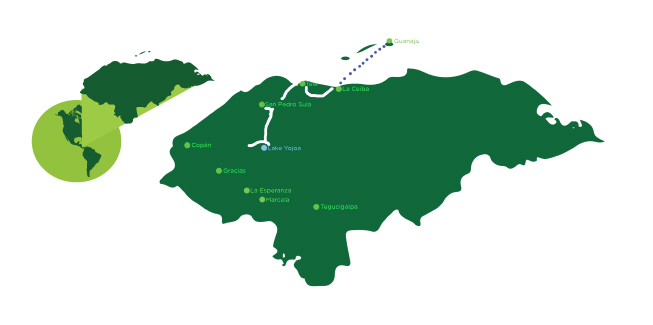 BRIEF SUMMARY
Day 1
Pickup at San Pedro Sula airport and transfer to LAke Yojoa
Day 2
Visit to La Fuente de Vida ecotourism project and hiking the Quetzal trail
Day 3
Kayaking on Lake Yojoa and transfer to Pico Bonito NP
Day 4
Hiking in Pico Bonito National Park
Day 5
Rafting the Rio Cangrejal and transfer to Guanaja
Day 6
Hiking and swimming on Guanaja
Day 7
Snorkeling in the Caribbean sea and transfer to La Ceiba
Day 8
Transfer to San Pedro Sula airport

Kayaking on Yojoa, with the Santa Bárbara mountains in the background
Day 1 | Pickup at San Pedro Sula airport and transfer to Lake Yojoa
We will be waiting for you at the airport of San Pedro Sula and bring you to Lake Yojoa, one of the most beautiful and diverse areas in the country. Depending on our time of arrival at the lake, we may go for a short walk to get to know he place and enjoy the breathtaking scenery. Afterwards we enjoy our first Honduran dinner and the relaxing atmosphere of our hotel.
Day 2 | Visit to La Fuente de Vida ecotourism project and hiking the Quetzal trail

Nestled in the Santa Bárbara mountains are small friendly communities that make their living from growing coffee and from subsistence agriculture. On first appearances, this seems like an idyllic landscape. Unfortunately, as is the case throughout much of the world, there is pressure to clear more forest to make way for agriculture in order to support a growing population.
What is different about this region however is that three communities – El Sauce, San Luis Planes and El Dorado – have come together to form a project named ¨Montaña de Santa Bárbara – La Fuente de Vida¨. Thousands of people depend on Montaña de Santa Bárbara for food, water, shelter and income. It is truly the source of life – la fuente de vida – for all of these people. Because of its incredible biological diversity it is also the source of life for the innumerable plants and animals that call the mountain home.
The three communities are working together to develop new sources of income based on ethical and sustainable tourism in the hope that these additional resources will enable us to improve our livelihood while protecting this critical environment and maintaining our cultural values. The project aims to build the capacity of the communities to manage the ecotourism opportunities and develop and implement conservation programs on their own terms rather than being overwhelmed by external commercial interests.
By visiting this project you will be part of an inspiring conservation effort in a spectacular landscape. You will meet the friendly people of the local villages, and will gain a better appreciation of why this is an important area to protect.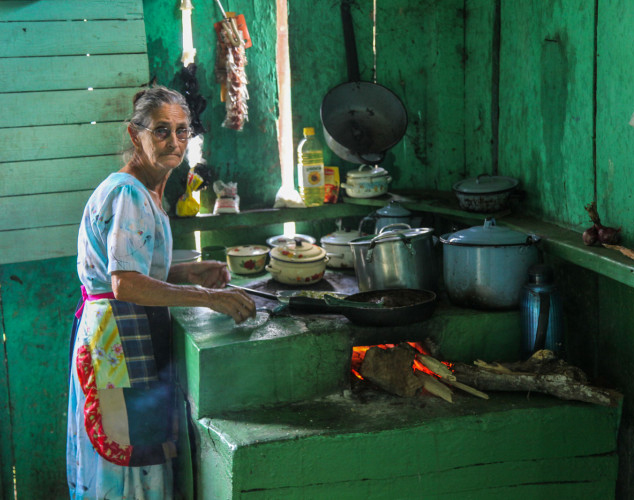 Doña Nicha's traditional comedor
A local family will prepare our breakfast and lunch, and one of the local guides will show us around some of the trails the communities have built to highlight the natural wonders of their home. You can also talk with the local people, see how they live, join in some of their daily tasks, and experience what life is like here in the mountains.
Day 3 | Kayaking on Lake Yojoa and transfer to Pico Bonito NP
We get up early (to avoid the burning sun when on the water) and go kayaking on beautiful Lake Yojoa. Take in the stunning views of the lake and the surrounding mountains of Santa Bárbara and Cerro Azul Meámbar. And if we do get too hot, there is nothing better than to just dive in and take a swim. Also, the canal and the lake are a wonderful place to spot birds such as Bare-throated Tiger-Herons, Kingfishers, Tanagers and many more!
In the afternoon, we drive to Honduras' north coast, where we settle in our hotel on the Cangrejal river at the foot of Pico Bonito National Park.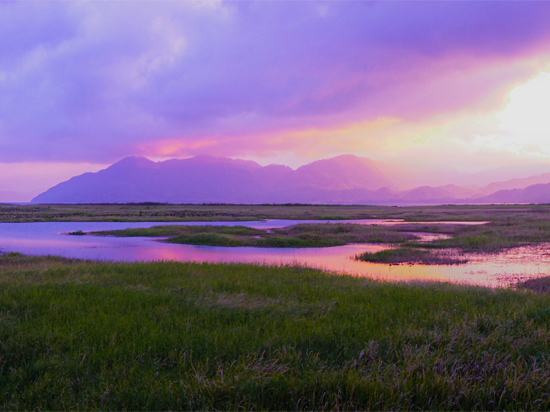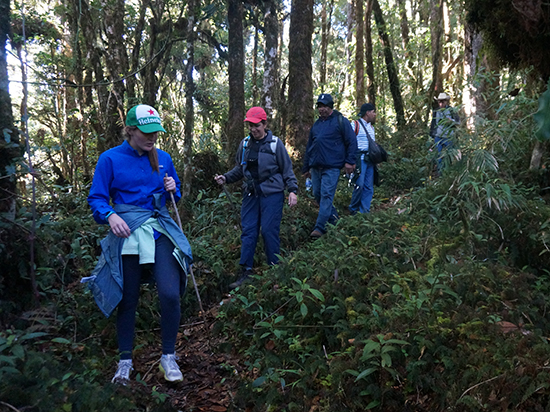 Hiking in the cloudforest
Day 4 | Hiking in Pico Bonito National Park
Today we put on our hiking boots to go and explore the stunning National Park of Pico Bonito. Expect to get sweaty and muddy as we hike through the humid rainforest. Luckily there is a chance now and again to cool of in a little stream or under a waterfall. We will be looking out for all sorts of tropical birds, monkeys, snakes, butterflies and frogs. Lunch will be a picknick on the way, for dinner we go back to the hotel. After this hike, we deserved a copious meal!
Day 5 | Rafting the Rio Cangrejal and transfer to Guanaja

Get ready for a huge adrenaline boost today, as we go rafting on the Cangrejal river! Depending on the experience of the team members, and always in dialogue with our certified and highly experienced rafting guides, we decide which part of the river to take. The lower part is the easier one; with rapids up to class III alternating with stretches of quiter water so you can rest your arms and take in the beautiful scenery. This part is perfect for all you adventurers who do not yet have a lot of experience rafting. Which doesn't mean it won't give you a great kick! The upper part of the river has rapids up to class VI, and is therefore only for the more experienced rafters! We then load all the rafts, paddles, lifejackets, and helmets (all first-rate and well-maintained equipment) in a truck to bring us to the put-in. After safety instructions, basic commands, and a self-rescue test, the adventure can begin. Whichever stretch you choose, you are in for some serious paddling, breathtaking scenery, and lots of adrenaline flowing through your body!
Afterwards, we board a small plane that will take us from La Ceiba to the 'green paradise' of the Caribbean, the island of Guanaja.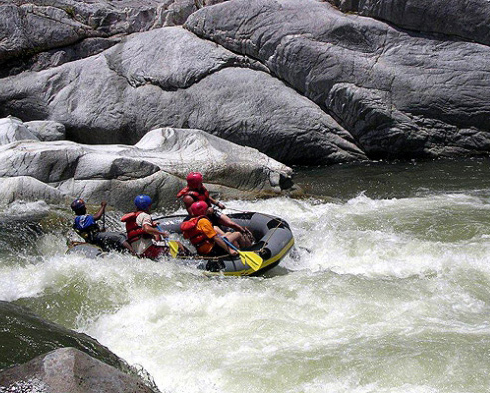 Rafting on the Cangrejal (photo: Omega Tours)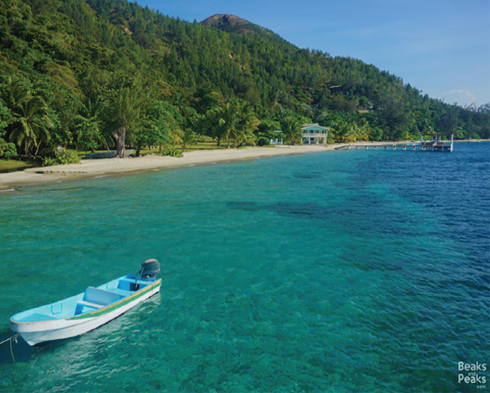 Guanaja, Green Island of the Caribbean
Day 6 | Hiking and swiming on Guajana
Come and dive into one of Guanaja's most unique micro climate zones, and experience a place that will make you feel like you're miles into the jungle, while only being a short distance away from the turquoise Caribbean waters. This tour will have you entertained for the whole day and will show you some of Guanaja's most beautiful areas. Have a shower under the many different waterfalls and cascades; sit in natural whirlpools while enjoying the sounds of nature, and finish off the day with a swim in the crystal clear ocean on one of the famous Beaches of the North Shore. Before heading back we'll enjoy a big meal at Bo's Green Flash Bar.
Day 7 | Snorkeling in the Caribbean sea and transfer to La Ceiba
On your last day in Honduras, we take it a little bit easier and enjoy the clear, turquoise-blue Caribbean waters as we go snorkeling! We´ll take a 35 minute boat-ride to a small tropical island, the kind you have had in your imagination ever since reading books as a kid about living on a deserted beach under palm trees and swimming with eagle rays in the azure blue waters of the tropical reefs where life is plentiful. The experience level of snorkeling here goes from novice to advanced, so it is the perfect place for everybody. We´ll spend most of the day out here on the beach, swimming, snorkeling and eating fresh fruit in the shade of the almond trees.
Late in the afternoon, we take a flight back to the Honduran mainland, where we will enjoy our final dinner together.

Breathtaking underwater world of the Caribbean (photo: IHT)
Day 8 | Transfer to San Pedro Sula Airport
We will bring you to San Pedro Sula airport in time for your flight.